Monday, May 7, 2012

Longest rice cake: Bauang residents sets world record (PICS)

BAUANG, Philippines--Residents of Bauang, La Union, made a 350-meter long rice cake ('inkiwar') - setting the new world record for the Longest rice cake, according to World Record Academy: www.worldrecordacademy.com/.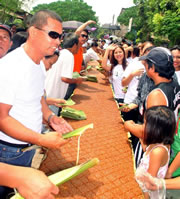 Photo: Residents of Bauang, La Union, display the longest rice cake at 350 meters
(lenght) by .60 m (width).
(enlarge photo)

The Guinness world record for the largest rice cake weighed 3.68 tonnes (8,113 lb) and was made by Kwak Sungho and staff of Han Bbang (South Korea) at the 12th World Rice Food Festival, Dongjin-gun, Chungnam, South Korea.

Guinness World Records also recognized the world record for the largest rice mosaic; it was 1,656.2 m² (17,827 ft²) and was created by the 2012 Yeosu World Expo Local Bidding Committee at the Olympic Stadium in Seoul, Korea.

A rice cake may be any kind of food item made from rice that has been shaped, condensed, or otherwise combined into a single object.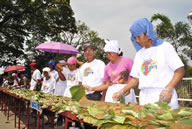 Photo: The World's Longest Rice Cake. (enlarge photo)

A wide variety of rice cakes exist in many different cultures in which rice is eaten, and are particularly prevalent in Asia.

Common variations include cakes made with rice flour, those made from ground rice, and those made from whole grains of rice compressed together or combined with some other binding substance.

Lontong, popular in Indonesia and Malaysia, is made of compressed rice that is then cut into small cakes. It is traditionally made by boiling the rice until it is partially cooked and packing it tightly into a rolled-up banana leaf.
The leaf is secured and cooked in boiling water for about 90 minutes. Once the compacted rice has cooled, it can be cut up into bite-sized pieces.

The dish is usually served cold or at room temperature with sauce-based dishes such as gado-gado and salads, although it can be eaten as an accompaniment to other dishes such as Satay and curries.

Related world records:
Longest Ice Cream Dessert: Webster University set world record (PICS)

Largest hot cross bun: RSPB Saltholme set world record (Video)

Largest sticky toffee pudding: Farmhouse Fare sets world record (PICS)

Most Expensive Chocolate Egg: William Curley sets world record

Largest meat and potato pie: Wildwood chefs set world record

Tallest cake: China sets world record (Photos)

Fastest Cake Car: Carey Iennaccaro and Mike Elder sets world record (Video)

Longest Lontong: Indonesia sets world record (Video)

Longest Christmas cake: Pudong Shangri-la Hotel sets world record

Largest chocolate coin: Carphone Warehouse

Most Cupcakes on a Display Tower: Charity event sets world record (Video)

Largest Armadillo Cake: Goode Company

Most expensive chocolate pudding: Chef Marc Guibert

Largest chocolate bar: Thorntons breaks Guinness world record (Video)

Largest Chocolate Bar: 12,000-pound chocolate bar (Video)

Largest cottage pie: Welwyn one tonne pie set world record

Largest cream puff: Wisconsin bakers (Video)

Longest Chain of Ice Cream Sundae: Briarwood Day Camp (Video)

Largest box of doughnuts: Voodoo Doughnuts set world record

Hottest Pie: Ron Bruns of Bremen Patisserie

Most flavours of ice cream displayed: Matt and Mike Casarez

Most Layers in a Layer Cake: Toronto bakeries

Most Cupcakes on a Display Tower: Barrington (Video)

Largest Dessert Party: Tanger Outlet Centers (HD Video)

Largest ice cream cake: Dairy Queen Canada (HD Video)

Largest Mango Pie: Philippines

Longest Ice Cream Dessert: St. Anne's School in Bethlehem (Video)

Largest corn flour patty (arepa): Empresas Polar

Largest organic cake: Carlo's Bake Shop

Oldest Wedding Cake: 113-year-old wedding cake

Largest Chocolate Bar Billboard: Meiji Seika Kaisha Ltd.

Largest ice cream cone: Italian gelato experts

Lowest calories wafers: buckwheat hull wafers

Tallest Chocolate Christmas Tree : Patrick Roger

Largest cake sculpture: Ritz-Carlton chefs

Largest snow cone: Bahama Buck's

Largest Stollen: Dresden Giant Stollen

Largest Custard Cream Biscuit - Paul Thacker and Simon Morgan

Largest brandy truffle - Gianni D'Aniello and Chef Chris Long

Largest Pumpkin Pie - New Bremen Pumpkinfest

Largest King Cake - Haydel's Bakery

Largest chocolate bar - Grand Candy factory

Largest chocolate coin - Science World sets world record

Largest Tiramisu - The Italian Association in Porrentruy

Largest cheese sculpture - Tanys Pullin

Largest Cupcake Tower - Gulf High School Interact Club s

Largest chocolate sculpture - Mirco Della Vecchia

Most people simultaneously licking ice cream - Augustana College

Largest baby grand piano cake - Confection Bakery

Largest chocolate bunny - Harry Johnson for Duracell

Most expensive display wedding cake - The Dallas Bridal Show

Largest Gingerbread Man - Dave Bowden

Largest tiramisu - French chefs

Largest Cupcake - Big Top Cupcake

Largest Cupcake-world record set by Cakes.com

Largest slab of chocolate fudge - Lansing Community College

Largest Dessert Buffet - Emirates Culinary Guild

Largest Easter Bread with Cheese ("Pasca") - Radauti city

Biggest chocolate eclair - The Swallow Bakery

Biggest cheesecake-world record set by Mexico Chefs

Biggest Kings' Cake (La Rosca de Reyes) - Mexican bakers

Biggest Chocolate Crepe Cake - Gus Kazakos

Most expensive ice cream sundae - Serendipity 3

Largest candy mosaic - London

Most Expensive Watermelon - Densuke watermelon

Biggest chocolate castle - Krunoslav Budiselic

Largest box of chocolates - Thorntons Moments

Largest crab cake - Handy International and Dover Downs

Largest Snow Cone - Paul Zajac and Station 885 Restaurant

Monday, May 7, 2012 10:32 AM