Tuesday, April 17, 2012

Longest Ice Cream Dessert: Webster University set world record (PICS & VIDEO)

St. Louis, MO, USA--Webster University students and staff prepared an 200.3 foot ice cream sundae - setting the new world record for the Longest Ice Cream Dessert, according to the World Record Academy: www.worldrecordacademy.com/.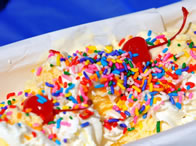 (enlarge photo)

The Guinness world record for the longest ice cream dessert was a sundae measuring 46.99 m (154 ft 2 in) which was prepared by Turner Community Library and Turner Recreation Commission (both USA), at Turner Community Library, in Wyandotte, Kansas, USA.

Guinness World Records also recognized the world record for the longest chain of people licking ice cream, achieved by 2,728 participants at an event organised by Morielli's of Portstewart Ltd. (UK) in Portstewart, Northern Ireland, UK.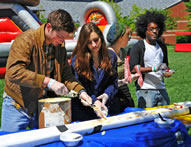 This epic and delicious event was the kick-off to Webster's annual Spring Fest.

(enlarge photo)

The record-breaking sundae included 456 pounds of vanilla ice cream, eight pounds of cherries and fourteen pounds of rainbow sprinkles.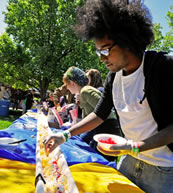 (enlarge photo)

With more than 80 volunteers scooping and sprinkling away, the record was broken in less than 30 minutes.

Minnick's Surveying provided the official measurement of 200.3 feet and served as official witnesses alongside Hannah Ingram of the Opera Theatre of St. Louis.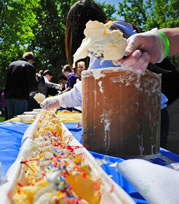 (enalrge photo)

According to the 'Riverfront Times', "the epic sundae lasted only long enough to get the official measurement -- once the announcement was made, students, staff and Gut Check swarmed the Slip 'n Slide-shaped dessert with spoons and bowls in hand."

Related world records:
Largest hot cross bun: RSPB Saltholme set world record (Video)

First chocolate printer: The Choc Edge printer sets world record (PICS & HD Video)

Largest sticky toffee pudding: Farmhouse Fare sets world record (PICS)

Most Expensive Chocolate Egg: William Curley sets world record

Tallest cookie tower: Woodrush High School set world record

Largest meat and potato pie: Wildwood chefs set world record

Tallest cake: China sets world record (Photos)

Fastest Cake Car: Carey Iennaccaro and Mike Elder sets world record (Video)

Longest Lontong: Indonesia sets world record (Video)

Longest Christmas cake: Pudong Shangri-la Hotel sets world record

Largest chocolate coin: Carphone Warehouse

Most Cupcakes on a Display Tower: Charity event sets world record (Video)

Largest Armadillo Cake: Goode Company

Most expensive chocolate pudding: Chef Marc Guibert

Largest chocolate bar: Thorntons breaks Guinness world record (Video)

Largest Chocolate Bar: 12,000-pound chocolate bar (Video)

Largest cottage pie: Welwyn one tonne pie set world record

Largest cream puff: Wisconsin bakers (Video)

Longest Chain of Ice Cream Sundae: Briarwood Day Camp (Video)

Largest box of doughnuts: Voodoo Doughnuts set world record

Hottest Pie: Ron Bruns of Bremen Patisserie

Most flavours of ice cream displayed: Matt and Mike Casarez

Saturday, May 12, 2012 10:14 AM