Tuesday, November 8, 2011

Most Cupcakes on a Display Tower: Charity event sets world record (Video)

Vereeniging, Vaal Triangle, South Africa -- Rio Sol Portuguese Restaurant's 3rd Charity event hosted "Cupcakes 4 Kids with Cancer"; 21 000 cupcakes were placed on a cupcake tower which was 19 tiers high and 3.6 meter wide - setting the new world record for the Most Cupcakes on a Display Tower, according to World Record Academy (www.worldrecordacademy.com).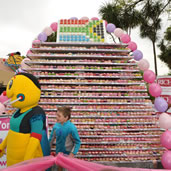 Photo: The World's Largest Cupcakes Tower. Photo: Vaal Function Photographers (enlarge photo)

The Guinness world record for the largest cupcake weighs 596.47 kg (1315.2 lb) and was achieved by Global TV Concepts (USA).

Guinness World Records also recognized the world record for the longest Christmas stollen measured 72.10 m long (236 ft 6.58 in) and was achieved by Lidl (Netherlands) at Haarlem Railway station, The Netherlands.

The 21 000 cupcakes were baked by the public and donated to raise funds for Kids with Cancer.

After the successful World Record attempt, the 21 000 cupcakes were given away to the community.

Volunteers handed the cupcakes out at local Hospitals, Children's Homes, Old-Age Homes and the Police.

Organizer Sandra Cipriano:"We asked the public to get involved by either baking cupcakes, buying cupcakes for R10 or Companies could sponsor the World Record Cupcake Display Tower for R1 000. The response was amazing!"

Facebook: Cupcakes 4 Kids with Cancer

"Volunteers offered to bake, companies offered to give products and sponsors just came on board! I don't know how we are ever going to be able to thank every single person and company who made this amazing day possible!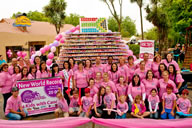 Photo by: Frank Trimbos
(enlarge photo)

"We had people baking at Old-Age Homes, Churches, Nursery Schools, Company Kitchens, moms and kids at home. This project just brought the whole community together. During September over 30 000 cupcakes were baked and donated to "Cupcakes 4 Kids with Cancer".

"We even got donations as far as Dubai and Australia and was able to raise over R200 000 (25,500 USD) in September. This money will be able to assist so many more kids with life threatening diseases.

" I would also like to thank the staff and Clients from Rio Sol Portuguese Restaurant, Blockbusters and Xana's Pizzaria for all their help during our Charity Event!

The new world record was sponsored by:
Rio Sol Portuguese Restaurant Blockbusters Entertainment
Caring 4 Kids with Cancer Foundation
Xana's Pizzaria
Zio Cash & Carry
Be Creative Design Solutions
Graphic Imprint
Citi Bearings
Nestle - Smarties
Rich's
Smart
DebtPlan
Smart Risk
BikeFin
Cupboard Craft
All the Volunteer Bakers and Helpers
IT Africa / TELMAR
The 3 Heart Fund
Dhouby Decor
Rolkem
Chefs & Icers Sandton
Makiti Party Hire
Four Way KwikSpar
Mystique Neon Signs
WestRand Packaging
Roots
Teixeira Family
Hay-Day
Nashua
Saftronic
Netplus CC
GFS Fleet Empire Fleet Solutions
Truworths
Rui Gouveia
Century Electrical
Steven Vink (Dubai)
Tank Manufactures PTY Ltd.
Core Training International
Brender Metal Dealers
Ben Venter
PG Glass
RK Engeniering Services
Domino Blasting CC
Carlos Vicente
Lyon & Partners (PTY) Ltd.
Wetback Contracts
Sasol Duncanville
River Square Shopping Centre
Tekkie Fees
Henley Market
Vaal Mall Shopping Centre
Formula 1 Technologies CC
Aveng Grinaker - LTA
Laugh your way to a better Marriage! RandWater Zuikerbosch Finance Dept.
Industrial Man CC
Alloy Wheel Repair
Elbenmar
Leanne Dickenson
SKF
Alri Da Silva
B & R Products
Easy Creations
CUM Books
Carlos Pestana & Family
Vaal Toyota
Hunny Pot
RK Engineering
Framing Factory & Gallery
WIMPY
Kwik Kerb SA
Hydro Diesel / Magic Tavern
Good Looking Beauty (Australia)
CTU Training Solutions
Kitching
Megan-Lee Loubser
Top Ten Motors
Balloon Mania
J & A Eiers
All-in-one-Steel
Carmen Baking Cups
Carmel Table Clothes
Tasol Solar
PP Bags
Fruitti Nutti
SPM Civils PTY Ltd
Gamont Development S.A. (Pty) Ltd
Ilca Trading
Sentek Fencing
90.6 VCR
Vaalridge Auto (BMW)
Martin Morgan Motors
Elize Bester Function Hire
Mardo Fotos
Dr T Rademan
Vaal Function Photographers
Design Link LTM
Hoep-Hoep Pre-Primary School
Diamond Corner
Nedbank Three Rivers
VV Plant Hire
Laura & George Boutsikaris
Get Inspired Hair Studio
Debbie Hough
Michelle Minnie
Vaal Party Shop
Decorama Furnishers
Mondeor Homebake
Nicky & Sarah
Finesse Tydskrif
Vaal Ster
Courier
SA Feeste
DrieHoek Wassery
Fruit & Veg City
Cape Legends / Distell
Dischem
Wayne & Bobby Sher from Dhouby Decor
Andries & Johan Kemp from Rolkem
Stef and Nadine Valle from Biscotti
Carolyn Bercovich from Chefs n Icers
IFM Radio Station
Nozintombi Miya From SABC
Frank Trimbos Fotografie
Jacqueline & Angelique De Sousa
Clare and Greg Sykora
Caren and Francois Terblanche
Nelle Oosthuysen
Fiona and Darren Aylward
Jeanne Day-Spriestersbach
Team Reefie at the Avon Justine ithemba Walkathon 2011
Baie Dankie - JDP
Cansa Vaal Triangle
Reach for a Dream Foundation

Related world records:
Largest Armadillo Cake: Goode Company

Most expensive chocolate pudding: Chef Marc Guibert

Largest chocolate bar: Thorntons breaks Guinness world record (Video)

Largest Chocolate Bar: 12,000-pound chocolate bar (Video)

Largest cottage pie: Welwyn one tonne pie set world record

Largest cream puff: Wisconsin bakers (Video)

Longest Chain of Ice Cream Sundae: Briarwood Day Camp (Video)

Largest box of doughnuts: Voodoo Doughnuts set world record

Hottest Pie: Ron Bruns of Bremen Patisserie

Most flavours of ice cream displayed: Matt and Mike Casarez

Most Layers in a Layer Cake: Toronto bakeries

Most Cupcakes on a Display Tower: Barrington (Video)

Largest Dessert Party: Tanger Outlet Centers (HD Video)

Largest ice cream cake: Dairy Queen Canada (HD Video)

Largest Mango Pie: Philippines

Longest Ice Cream Dessert: St. Anne's School in Bethlehem (Video)

Largest corn flour patty (arepa): Empresas Polar

Largest organic cake: Carlo's Bake Shop

Oldest Wedding Cake: 113-year-old wedding cake

Largest Chocolate Bar Billboard: Meiji Seika Kaisha Ltd.

Largest ice cream cone: Italian gelato experts

Lowest calories wafers: buckwheat hull wafers

Tallest Chocolate Christmas Tree : Patrick Roger

Largest cake sculpture: Ritz-Carlton chefs

Largest snow cone: Bahama Buck's

Largest Stollen: Dresden Giant Stollen

Largest Custard Cream Biscuit - Paul Thacker and Simon Morgan

Largest brandy truffle - Gianni D'Aniello and Chef Chris Long

Largest Pumpkin Pie - New Bremen Pumpkinfest

Largest King Cake - Haydel's Bakery

Largest chocolate bar - Grand Candy factory

Largest chocolate coin - Science World sets world record

Largest Tiramisu - The Italian Association in Porrentruy

Largest cheese sculpture - Tanys Pullin

Largest Cupcake Tower - Gulf High School Interact Club s

Largest chocolate sculpture - Mirco Della Vecchia

Most people simultaneously licking ice cream - Augustana College

Largest baby grand piano cake - Confection Bakery

Largest chocolate bunny - Harry Johnson for Duracell

Most expensive display wedding cake - The Dallas Bridal Show

Largest Gingerbread Man - Dave Bowden

Largest tiramisu - French chefs

Largest Cupcake - Big Top Cupcake

Largest Cupcake-world record set by Cakes.com

Largest slab of chocolate fudge - Lansing Community College

Largest Dessert Buffet - Emirates Culinary Guild

Largest Easter Bread with Cheese ("Pasca") - Radauti city

Biggest chocolate eclair - The Swallow Bakery

Biggest cheesecake-world record set by Mexico Chefs

Tuesday, November 8, 2011