Thursday, November 17, 2011

Youngest App Developer: Thomas Suarez sets world record (Video)

LOS ANGELES, CA, USA -- Thomas Suarez from Los Angeles has been fascinated by computers and technology since kindergarten, and at the tender age of 12, he has already established his own company, CarrotCorp, which has made two iOS apps that are currently in the App Store , setting the world record for the Youngest App Developer, according to World Record Academy (www.worldrecordacademy.com).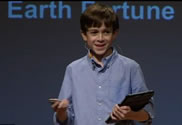 Photo: Thomas Suarez, 12, The World's Youngest App Developer, took the stage at TEDx ManhattanBeach to discuss the apps he has released for iOS devices. (enlarge photo)

The Guinness world record for the most downloaded free Iphone App was set by the free app Bubble Ball which has been downloaded by more than two million iPhone users (as of January 2011). It was written by Robert Nay (USA) who, at the time was 14.

Guinness World Records also recognized the world record for the greatest number of countries that a game in the Apple App Store has occupied the number one position: 67, achieved by Angry Birds.

CarrotCorp has made two iOS apps that are currently in the App Store: Earth Fortune, which displays different colours of Earth depending on what your fortune is, and Bustin Jieber, a Whac-a-Mole for Justin Bieber.

The World's Youngest App Developer says that the 99-cent Bustin Jieber app is his "favourite and most successful app".

Thomas, currently enrolled in middle school in the South Bay of Los Angeles, appeared at the October 22 event about 'Transforming Learning'.

He told of how he became interested in coding as a kindergartener, and eventually began teaching himself programming basics in Python, C, and Java.

IPad in hand at the independently organized TED event, he said he began to create and sell his own applications when Apple released the Software Development Kit.

Thomas subsequently released his first app, Earth Fortune - a programme which changes the earth's colour based on your fortune - in late 2010.

What's impressive is the way he gives presentations at TED conferences, which is uncannily similar to the way Apple's Steve Jobs - who Suarez says is his inspiration - delivers his keynote speeches.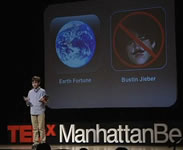 Photo: Thomas, The Youngest App Developer in the World, said his most popular app has been Bustin Jieber, a Whac-A-Mole-inspired game where players wallop the head of teen idol Justin Bieber. (enlarge photo)

Suarez has also started an App Club at school where students can learn how to design an app.

"A lot of kids these days like to play games, but now they want to make them.

"And it's difficult because not many kids know where to go to find out how to make a program, and not many parents have written apps," said Suarez in a report by TheNextWeb.com.

'For soccer you could go to a soccer team ... but what if you want to make an app?' he asked, pointing out that it can be difficult for curious kids his age to learn how to follow in his footsteps.

Thomas said the club is working with its teacher sponsor to create educational iPad apps which will be distributed to local school districts free of charge.

The World's Youngest App Developer said he plans to build more programmes and expand into developing apps for Android.

Related world records:
Youngest archeologist: Emily Baldry (Video)

Youngest nuclear scientist: Taylor Wilson (Video)

Youngest TV reporter: Five-year-old Jane Haubrich (Video)

Youngest preacher: Kanon Tipton (HD Video)

.

Youngest Professional Drummer: Julian Pavone (Video)

Youngest climber to conquer the Seven Summits: George Atkinson

Youngest professional soccer player: Baerke van der Meij (Video)

Youngest astrophysics researcher: Jacob Barnett (Video)

Youngest Gamer to Achieve a Perfect Score on Dance Dance Revolution: Ryota Wada

Youngest to make a lifesaving call: 3 Year Old AJ Hayes

Youngest Yoga Teacher: 6-Year-Old Shruti Pandey

Youngest Singer: 3 Year-Old Atithi Gautam

Youngest person to discover a supernova: 10-Year-Old Kathryn Gray

Youngest World Map memorizer: 6-Year-Old Mohamed Ashik

Youngest live portrait artist: Harris Imtiyaz Khan

Youngest to state all the U.S capitals: Shruthi Vairavan

Youngest to state all the U.S capitals: Shruthi Vairavan

Youngest Opera Singer: Jackie Evancho

Youngest FisherGirl: Ella Windschitl

Youngest to climb Mount Everest: Jordan Romero

Youngest to circumnavigate the globe: Jessica Watson

Youngest Golfer to Score a Hole-in-One: Eleanor Gamble

Youngest person to have built an electric truck: Deitrich Ludwig

Youngest Vacuum Cleaners Specialist: Kyle Krichbaum

Youngest drum corps queen: Julia Lira

Youngest to climb world's highest peaks: Johnny Collinson

Youngest successful painter: Kieron Williamson

Youngest Skateboarder: Evan Wasser

Youngest wing-walker: Tiger Brewer

Youngest solo pilot to fly five different aircrafts: Evan Graham

Youngest String Orchestra to Play at Carnegie Hall: South Pasadena Children's Orchestra

Youngest Billiard Player: Keith O'Dell Jr

Youngest male radio presenter: Jack Hill

Youngest college lecturer: Aman Rehman

Youngest passenger on wheightless flight: Jules Nader

Youngest Successful Singer: Cleopatra Stratan

Youngest to solo airplane and helicopters on same day: Errick Smith

Youngest DJ: Jack Hill

Youngest Person Performing Carnatic Music on the Violin: Sandeep N Bharadwaj

Most expensive Baby photos: Angelina Jolie's twins

Youngest swimmer Maharnth

Youngest college professor: Alia Sabur

Youngest pilot to set world flight records: Jonathan Strickland
Youngest leader of the Formula One world championship

Youngest lead climbing world champion: Johanna Ernst

Youngest person to win a Japanese Golf male tournament

Youngest relay team to swim the English Channel: English swimmers

Youngest Skydiver: Valentina Mihanciu

Youngest pilot completes round-the-world flight

Youngest to circumnavigate the globe: Jessica Watson

Youngest rower to cross an ocean solo: Katie Spotz

Youngest to sail solo around world: Zac Sunderland

Youngest passenger to fly in microgravity: Jules Nader

Youngest to solo airplane and helicopters on same day: Errick Smith

Thursday, November 17, 2011