Wednesday, October 20, 2010

Youngest live portrait artist - Haris Imtiyaz Khan sets world record
PUNE, Maharashtra, India--Child prodigy artist Haris Imtiyaz Khan, now twelve years old, was able to draw a live portrait, using charcoal, since he was only ten , setting the world record for the Youngest live portrait artist.


Photo: Rajpal Yadav, Miss India Universe Tanushree Datta, Haris Imtiyaz Khan at the painting exhibition by Child prodigy Haris Imtiyaz Khan.
(enlarge photo)

His work has been appreciated by great personalities like former Indian president A.P.J Kalam Sahab, Actor Dilip Kumar, Dev Anand, Aamir Khan, Priya Dutt, Suresh Kalmadi, Ram Gopal Verma, and many more.

His parents, Huma and Imtiyaz Khan realized this inborn talent when he was three years old. At the age of 7, he made a portrait of Mahatma Gandhi and till date he has held 8 exhibitions of his portraits in Pune and Mumbai.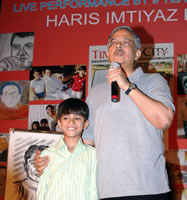 (enlarge photo)

Haris was selected as the youngest artist in a competition in New York. This was an online competition in which artists from all over the world participated. Many of these artists were far more senior and experienced than Haris. News channel IBN 7 selected Haris as one amongst five youngest artists. He has also received an appreciation letter from former President Dr APJ Abdul Kalam.

Haris has also won 'Pride of Pune' contest. His work has been appreciated by Child Art Magazine in United States.
He already has held Nine solo exhibition in India and most of my painting have been sold because of its uniqueness.
He developed his talent without taking art classes. He can make live portraits using charcoal and his fingers or using a brish on any surface.

Haris said that he was greatly influenced by great personalities like Mahatma Gandhi, Mother Teresa and Rabindranath Tagore.

Haris says: "Before moving to Pune I lived with my large extended family in the small town of Burhanpur. I was very close to my Grandfather then. He was a great inspiration to me. He always told me about the story of freedom fighters like Mahatma Gandhi and others. That's why I have drawn so many portraits of Mahatma Gandhi."

"He used to make portraits of Mahatma Gandhi earlier and has recently taken up contemporary art. His father is a poet and he listens to his poetry and also to Mirza Ghalib and then he tries to put the emotions on canvas. Therefore, most of his paintings are a mixture of pain and hope," says Huma Khan, his mother.

His parents aim to send him to France School of Arts once he grows up.

On the Net: http://www.harisimtiazkhan.com/

The Guinness World record for the youngest professional artist was achieved by Arushi Bhatnagar, India.
Guinness World records also recognized Adám Lörincz, 14, as the Youngest Composer of a Musical.

Subscribe to our free RSS News feed to receive updates.

Related world records:
Youngest to state all the U.S capitals - Shruthi Vairavan

Youngest Opera Singer - Jackie Evancho

Youngest FisherGirl - Ella Windschitl

Youngest to climb Mount Everest - Jordan Romero

Youngest to circumnavigate the globe - Jessica Watson

Youngest Golfer to Score a Hole-in-One - Eleanor Gamble

Youngest person to have built an electric truck - Deitrich Ludwig

Youngest Vacuum Cleaners Specialist - Kyle Krichbaum

Youngest drum corps queen - Julia Lira

Youngest to climb world's highest peaks - Johnny Collinson

Youngest successful painter-Kieron Williamson

Youngest Skateboarder - Evan Wasser

Youngest wing-walker - Tiger Brewer

Youngest solo pilot to fly five different aircrafts - Evan Graham

Youngest String Orchestra to Play at Carnegie Hall - South Pasadena Children's Orchestra

Youngest Billiard Player - Keith O'Dell Jr

Youngest male radio presenter - Jack Hill

Youngest college lecturer - Aman Rehman

Youngest passenger on wheightless flight - Jules Nader

Youngest Successful Singer - Cleopatra Stratan

Youngest to solo airplane and helicopters on same day - Errick Smith

Youngest DJ - Jack Hill

Youngest Person Performing Carnatic Music on the Violin - Sandeep N Bharadwaj

Most expensive Baby photos: Angelina Jolie's twins

Youngest swimmer Maharnth

Youngest college professor - Alia Sabur

Youngest pilot to set world flight records - Jonathan Strickland
Youngest leader of the Formula One world championship

Youngest lead climbing world champion - Johanna Ernst

Youngest person to win a Japanese Golf male tournament

Youngest relay team to swim the English Channel - English swimmers

Youngest Skydiver - Valentina Mihanciu

Strongest Girl - Jacqueline Wickens

Strongest Boy - Nicholas Ortiz

Youngest pilot completes round-the-world flight

Youngest to circumnavigate the globe - Jessica Watson

Youngest rower to cross an ocean solo - Katie Spotz

Youngest to sail solo around world - Zac Sunderland

Youngest passenger to fly in microgravity - Jules Nader

Youngest to solo airplane and helicopters on same day - Errick Smith

Wednesday, October 20, 2010