Monday, March 15, 2010

Youngest rower to cross an ocean solo - Katie Spotz sets world record

GEORGETOWN, Guyana -- After a bold 2,817 mile (4,500 kilometer) journey from west Africa that took her 70 days, five hours and 22 minutes to complete, Katie Spotz, 22, arrived in Guyana, in South America , setting the world record for the Youngest rower to cross an ocean solo.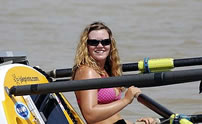 Photo: Katie Spotz at the end of her solo marathon in Georgetown/AP photo (enlarge photo)

"The hardest part was just the solo part," Spotz said, saying she struggled with boredom and had trouble sleeping inside the cramped, 19-foot (6-meter) row boat.

"It was very difficult to sleep on the boat so I had some serious sleep-deprivation and rowing ten hours is difficult enough and having to do that with little sleep was a real challenge, so that was tough," she said. Spotz also had to deal with sores, rashes and blisters, but said the discomforts "were nothing serious."

Arriving in Guyana she was treated to watermelon, her first fresh food for more than two months, having relied on dehydrated meals and energy bars for nutrition during her trip.

Spotz was greeted by a welcome party as she arrived in Guyana, and the country's Tourism Minister Manniram Prashad said he was hopeful that her trip would raise the profile of the country's fledgling eco-tourism industry. "We're very happy that Guyana is in the spotlight and it will make, I suspect, more and more people want to come to Guyana," he said.

"The world record for the Youngest rower to cross an ocean solo is just a bonus for Katie. Rowing the Atlantic and raising funds for clean water are the things she really cares about," said her coach Sam Williams.

She traveled without any support boat aside from a Coast Guard vessel that escorted her to Guyana's coast. Her original estimation for the journey was three months or more, but due to her "determination and focus", as well as good weather conditions, she had a speedy journey.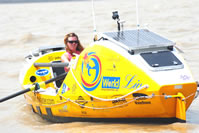 Photo: Her journey began in Dakar, Senegal in her special rowboat called Liv. The boat is designed for sea travel and can weather 30 foot waves. (enlarge photo)

Spotz rowed for as many as 10 hours a day with breaks for naps, navigation and boat maintenance. At night, she would drift aboard the specially designed ocean row boat, which had equipment including solar panels for power, a satellite phone and a laptop computer.

She had little fresh food aside from sprouts grown aboard the boat. "I would cook three dehydrated meals a day on a little stove," she said as she devoured a melon at the dock in Georgetown. "At night I would update my Facebook and e-mails. There is not much else to do on a row boat."

Some of the most harrowing moments came near the voyage's end. As she approached the continental shelf, waves crashed over the boat and Spotz worried it would capsize. She had to use a fire extinguisher after a piece of tracking equipment caught fire.

The cost of Spotz's trip was covered by a number of sponsors and she managed to raise 84,510 dollars from donors for the Blue Water Run Foundation, a San Francisco-based group dedicated to delivering safe and clean drinking water to communities worldwide.

"I am so thankful to all of the people who followed my journey and sent me encouraging messages, but especially for their donations and support for safe drinking water, which were inspirations for the row. I am also very grateful for the support of my sponsors, including my title sponsor, GaREAT Sport Complex in Geneva, Ohio, as well as Pentair Water, World Shipping, Kinetico Water Systems, Moen, Weatherguy.com, Germ Guardian, and so many more who helped fund my journey through corporate contributions," said Spotz.

Her family was extremely relived to see her make it through the latest adventure. "The first thing I did was call my wife in Ohio to tell her she landed safe and sound," said Dan Spotz, her father.

On the Net:
Katie Spotz site: http://rowforwater.com

The previous world record for the youngest rower to cross an ocean solo was set by Oliver Hicks, a British man who was 23 when he rowed from New Jersey to England in 2005, according to Kenneth Crutchlow, the London-based executive director of the Ocean Rowing Society.

Subscribe to our RSS News feed to receive updates.