Monday, January 24, 2011
Youngest Yoga Teacher: 6-Year-Old Shruti Pandey sets world record
ALLAHABAD, Uttar Pradesh, India -- 6-Year-Old Shruti Pandey has been teaching yoga to adults at an ashram (yoga retreat), in northern India, for the last two years , setting the world record for the Youngest Yoga Teacher.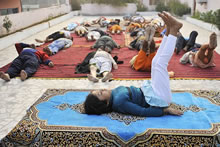 Photo: Shruti, The World's Youngest Yoga Teacher, teaches yoga to classes of up to 30 adults, starting at 5:30am, at the Swami Brahmachand Saraswati Kaivalya Dham Ashram in Allahabad, Uttar Pradesh in India. Photos: Shariq Allaqaband (enlarge photo)

"She's a fast learner and a perfectionist. She grasps techniques quickly unlike kids her own age, who get bored with something as patience consuming as yoga.
" Within just six months of her training, she surprised everyone by doing the toughest positions with ease and perfection," said her trainer, Hari Chetan who set up the retreat some thirty-five years ago.

The Guinness world record for the Oldest Yoga Teacher was set by Bette Claman, aged 83, who is still teaching regular yoga classes at Williamstown Yoga Centre, Williamstown, Victoria, Australia.

Guinness World Records also recognized the Largest yoga class: it involved 29,973 students from 362 schools who performed a sequence of yogic kriyas called Suryanamaskar (Salute to the Sun), at Jiwaji University, Gwalior, India.

Shruti begins her daily regimen at 5.30 am, dressed in white leggings and a red t-shirt, her many different students from all ages and walks of life encircling her. They include: businessmen, teachers, housewives and elderly pensioners.

"It feels good when people follow my instructions, I feel like a real teacher… I got interested in yoga after seeing my brother do it. I tried picking it up myself but it was too hard. So I asked my parents to send me to yoga classes," says Shruti.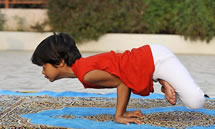 Photo: Shruti has mastered some of yoga's most challenging positions. She can easily hold her entire body on the strength of her little arms and hang her legs backwards over her head. (enlarge photo)

Her older brother, Harsh Kumar, now 11-years-old, made the Limca Book of Records when he was five years old by learning all 84 yoga positions. He has never been a teacher, however, like his little sister.

Shruti has mastered some of yoga's most challenging positions. She can hold her entire body on the strength of her little arms and hang her legs right over her head backwards.

Her students are in awe of her capabilities and many have stated that her class has changed their attitudes about coping with life and its many pressures.

Subscribe to our free RSS News feed to receive updates.

Related world records:
Youngest Singer: 3 Year-Old Atithi Gautam

Youngest person to discover a supernova: 10-Year-Old Kathryn Gray

Youngest World Map memorizer: 6-Year-Old Mohamed Ashik

Youngest live portrait artist - Harris Imtiyaz Khan

Youngest to state all the U.S capitals - Shruthi Vairavan

Youngest to state all the U.S capitals - Shruthi Vairavan

Youngest Opera Singer - Jackie Evancho

Youngest FisherGirl - Ella Windschitl

Youngest to climb Mount Everest - Jordan Romero

Youngest to circumnavigate the globe - Jessica Watson

Youngest Golfer to Score a Hole-in-One - Eleanor Gamble

Youngest person to have built an electric truck - Deitrich Ludwig

Youngest Vacuum Cleaners Specialist - Kyle Krichbaum

Youngest drum corps queen - Julia Lira

Youngest to climb world's highest peaks - Johnny Collinson

Youngest successful painter-Kieron Williamson

Youngest Skateboarder - Evan Wasser

Youngest wing-walker - Tiger Brewer

Youngest solo pilot to fly five different aircrafts - Evan Graham

Youngest String Orchestra to Play at Carnegie Hall - South Pasadena Children's Orchestra

Youngest Billiard Player - Keith O'Dell Jr

Youngest male radio presenter - Jack Hill

Youngest college lecturer - Aman Rehman

Youngest passenger on wheightless flight - Jules Nader

Youngest Successful Singer - Cleopatra Stratan

Youngest to solo airplane and helicopters on same day - Errick Smith

Youngest DJ - Jack Hill

Youngest Person Performing Carnatic Music on the Violin - Sandeep N Bharadwaj

Most expensive Baby photos: Angelina Jolie's twins

Youngest swimmer Maharnth

Youngest college professor - Alia Sabur

Youngest pilot to set world flight records - Jonathan Strickland
Youngest leader of the Formula One world championship

Youngest lead climbing world champion - Johanna Ernst

Youngest person to win a Japanese Golf male tournament

Youngest relay team to swim the English Channel - English swimmers

Youngest Skydiver - Valentina Mihanciu

Strongest Girl - Jacqueline Wickens

Strongest Boy - Nicholas Ortiz

Youngest pilot completes round-the-world flight

Youngest to circumnavigate the globe - Jessica Watson

Youngest rower to cross an ocean solo - Katie Spotz

Youngest to sail solo around world - Zac Sunderland

Youngest passenger to fly in microgravity - Jules Nader

Youngest to solo airplane and helicopters on same day - Errick Smith

Monday, January 24, 2011