Youngest relay team to swim the English Channel - world record set by English swimmers

TUNBRIDGE WELLS, England -- The Royal Tunbridge Wells Monson Swimming Club's 1956 class-the 12 years olds-swam (on September 4, 1968 ) the most difficult way from England to France in 12 hours and 45 minutes-setting the world record for the (First and the) Youngest relay team to swim the English Channel.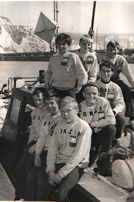 Photo: The record breaking team at the start of their swim. Back: Jonathan Marsh, Kevin Tettmar, Kim Taylor, Peter Burns. Front: Stephen Underdown, Richard Field, David Young, Peter Chapman. (enlarge photo)

Eight had trained but only six could take part in the official relay.
John Wrapson: "The two boys in the middle on the top row ( photo right ) were the two 'reserves in name only' but were an important part of the squad. The team had to be named before the attempt started and the named team then had to swim in the correct order and could not be altered!"

Kevin Tettmar, of Rusthall, and Jonathan March, of Sherwood, were told that they were the unlucky non-swimmers.

The boys in order of swimming were: David Young (Crowborough) who had three spells in the water; Richard Field (Southborough), Kim Taylor (Rusthall), Peter Chapman (Monson Road), Stephen Underdown (Rusthall) and Peter Burns (Sherwood).

Peter Burns recalled: "The training John gave us for that swim was so tough that the swim itself was easy by comparison."

"We had some problems on the way. In the middle we ran into a storm, and one boy had to swim through a shoal of jellyfish, but it was worth it."

John Wrapson, the relay swim and official observer commented back then: "A very creditable performance in very heavy seas at times, and not at all easy conditions."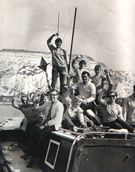 The Mayor Ald. Kenneth Morrison told the boys:"The swim reflects great credit on you all. When I was your age, I don't think I could have tackled it."

(enlarge photo)

Dennis Knight, the (assistant) coach, said the youngsters swam 130 miles training for the attempt.

Local media reported: "Conditions, on the whole, were difficult and they owed a lot to Captain Hutchinson, whose pilot boat took them across."

The dates of birth and names of the team were:
- David Young 18 June, 1956
- Richard Field 21 March 1956
- Kim Taylor 17 March 1956
- Peter Chapman 26 May, 1956
- Stephen Underdown 4 February1956
- Peter Burns 25 July 1956
Average age: 12 years 4 months

John Wrapson: "All the swimmers had been members of the swimming club for quite a long time, lived in Tunbridge Wells and were not specially enrolled for the purpose of creating a record!"


Saturday, November 1, 2008