Most expensive Baby photos: Angelina Jolie's twins sets world record

NEW YORK, USA & LONDON, UK -- People magazine and Britain's Hello! magazine secured the exclusive rights to the photographs of Angelina Jolie and Brad Pitt's twins (Knox Leon and Vivienne Marcheline) for $14 million (to be donated to charity)-setting the world record for the Most expensive Baby photos.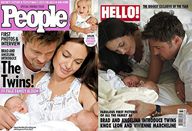 Photo: The first pictures of twins Knox Leon and Vivienne Marcheline born to Angelina Jolie and partner Brad Pitt on Saturday, July 12 at Lenval hospital in Nice were published simultaneously in two celebrity magazines that hit newsstands on Monday, August 4. Photo Credit: People / Hello (enlarge photo)

The photos, purchased in a joint venture between People and England's Hello! Magazine, are expected to grace the covers of both periodicals, arriving on newsstands today.

People magazine had secured US rights for the photos and British glossy Hello! had won international rights.

"We're thrilled to be able to feature these pictures in People," People managing editor Larry Hackett said in a statement. "They will delight our readers who have followed the growth of the Jolie-Pitt family."

Celebrity magazines usually recover the millions they shell out through increased sales of the magazine, higher ad revenue resulting from increased page views on their websites and resale of photos abroad. Sometimes, the cover price of the magazine is also increased.

Twins Vivienne Marcheline and Knox Leon have to be the richest babies in the world…or at least the youngest philanthropists in the worlds.

The price for the celebrity baby photographs is more than double the $US6 million People paid for Jennifer Lopez's twins on a March cover.

Oscar winner Angelina Jolie, 33, gave birth to the twins on July 12 in Nice, France. The family has rented a villa in nearby Provence. Jolie and Pitt, 44, are one of Hollywood's most glamorous couples, dubbed "Brangelina" by the celebrity press, and the birth of their twins was the subject of obsessive media coverage.

In an accompanying interview to Hello!, Angelina says: 'It is chaos [at home] but we are managing it and having a wonderful time.' Proud dad Brad Pitt says, "Viv is proving to resemble Ange in spirit, attitude and physicality… And Knox, he's a bit of me."

Jon Voight was surprised that daughter Angelina Jolie had so many children, telling "FOX & Friends" on Thursday that "she wasn't the kind that played with dolls, and then all of a sudden she has all these kids." The actor, 69, went on to say that his daughter "loves kids, she's very playful — it's wonderful, just wonderful." As for newborn grandchildren Knox and Vivienne, "they're healthy and doing well, and I'm so happy." (see video)

Pitt and Jolie's twins, Knox Leon and Vivienne Marcheline, have not been glimpsed by the outside world since they were born at a hospital in Nice, in the south of France, on July 12.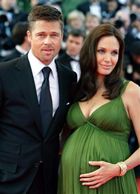 Photo: In this May 15, 2008 file photo, American actors Brad Pitt and Angelina Jolie arrive for the premiere of the film "Kung Fu Panda," during the 61st International film festival in Cannes, southern France. People magazine has scored the U.S. rights to exclusive photos of Brad Pitt and Angelina Jolie's newborn twins, a representative for the magazine told The Associated Press.
(AP Photo/Matt Sayles, file)
-enlarge photo

Pitt, 44, and Jolie, 33, were reported to have received 5 million dollars for the first pictures of their first biological daughter, Shiloh, in June 2006, which the power couple also donated to charity.

And last year, the couple sold intimate shots of their son Pax, then 3 years old, to Hello! and People. The two magazines are again sharing the rights to the Jolie-Pitt photographs, with each publication contributing to the final price.

Getty Images was back in the game this time: In a statement, Getty co-founder and CEO Jonathan Klein said his company was "delighted that all proceeds from these stunning images will once again be donated entirely to charity. It is a privilege to use the power of our imagery to make a difference in the lives of so many throughout the world through the Jolie-Pitt Foundation."

In June 2006, People magazine published six photos of Pitt, Jolie and baby Shiloh, who displayed the Jolie pillow-lipped pout just days after her birth. Media week reported two months later that the issue sold 2.2 million copies, its biggest seller at the time since its 4 million-selling 9/11 special.

As well as their biological brood, Pitt and Jolie are also parents to three adopted children, Maddox, six, born in Cambodia; four-year-old Pax, born in Vietnam; and Zahara, three, born in Ethiopia.

Jolie, 33, and Pitt, 44, established their foundation in 2006, often making children the focus of their giving. They donated $1 million in June to The Education Partnership for Children of Conflict to help children affected by the war in Iraq.

Last year, the Jolie-Pitt Foundation gave more than $300,000 to support the International Rescue Committee's relief program for Darfur refugees.

Also the Jolie-Pitt Foundation gave $8.5 million in the charity, evenly divided between the two of them. Most of the $2.4 million that was distributed to charities included $1 million each to the Epidermolysis Foundation and Doctors without Borders. The Red Cross in Namibia, where baby Shiloh was born, got $137,035.

The Foundation currently claims $6 million in assets, excluding a $1 million pledge they made earlier this summer to the children from war families. The new money could bring their endowment to $20 million.

The previous record holder was Jennifer Lopez, who earlier this year received $6 million from People for pics of her twins, Max and Emme.

Monday, August 4, 2008