Saturday, May 15, 2010

Youngest to circumnavigate the globe - Jessica Watson sets world record

SYDNEY, Australia -- Australian schoolgirl sailor Jessica Watson, 16, made a triumphant return to Sydney, after a 23,000 nautical mile (about 38,000km), 210-day voyage that saw her ride 12-metre swells, eat 576 chocolate bars in her 10-metre yacht - setting the new world record for the Youngest to circumnavigate the globe nonstop and unassisted.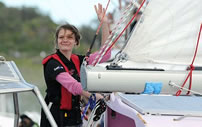 Photo: Teen sailor Jessica Watson waves as she sails into Sydney Harbour aboard her yacht, Ella's Pink Lady. / EPA (enlarge photo)

Harbour Master Steve Young sounded a pink hooter to signal the official end to her voyage, and a tugboat sent up a celebratory jet of water as the beaming teen steered through the harbour mouth, waving to the throng of onlookers.

"I haven't seen a person for almost seven months and suddenly there's people everywhere, faces, so much colour, so much noise, so much everything," Watson told reporters. "It was amazing and very overwhelming."

Prime Minister Kevin Rudd joined the teenager's emotional parents Roger and Julie to welcome her at the Sydney Opera House, where she took her first steps on dry land in almost seven months, to wild cheers and applause.

"You may feel a little wobbly on your feet just now," Rudd told Watson, who needed help to hobble on unsteady feet up the pink carpet from her boat. "But in the eyes of all Australians, you now stand tall, as our newest Australian hero."

Jessica Watson appeared incredulous at her jubilant reception, broadcast live on commercial television to millions of Australians, and was quick to dismiss the prime minister's praise. "I don't consider myself a hero," the schoolgirl said.

"I'm an ordinary girl who believed in a dream."

"You don't have to be someone special or anything special to achieve something amazing, you've just got to have a dream, believe in it and work hard."

"I'd like to think that by sailing solo, non-stop and unassisted around the world I've proved that anything really can be achieved if you set your mind to it. Anything really is possible," she said.

The previous Guinness world record for the Youngest to circumnavigate the globe nonstop and unassisted was set by Australia's Jesse Martin, who was 18 in 1999 when he girdled the globe on his own, without stopping and without getting help.

Fellow Australian Jesse Martin boarded Watson's yacht to congratulate her and steer a course to shore so she could lap up the welcome.

"It took me 11 months and she's done it in seven, she's flown around the world," an admiring Martin said. "I think you can say if she can do this she'll be right; she can do anything."

Another voluble supporter was millionaire businessman Dick Smith, who predicted that in the months that Watson was on the high seas there would be thousands of young people just her age taking far bigger risks taking drugs or driving when drunk.

"Adventuring around the world in a yacht is far less risky and far more inspiring," said Smith, who helped with the financing of Watson's wanderlust.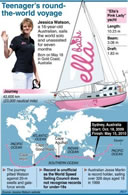 Photo: Graphic on the round-the-world voyage of a 16-year-old Australian girl, Jessica Watson / AFP (enlarge photo)

Jessica Watson has undoubtedly fulfilled the standard job sheet: crossing all meridians of longitude, crossing the equator and returning to the port of embarkation.

She twice sailed over the equator, crossed all meridians of longitude and passed the world's four capes as she traversed the Pacific, Atlantic and Indian Oceans.

The teen said she was looking forward to a few simple pleasures -- walking on the beach, eating fresh fruit and reading some new books -- and returning to life as a 16-year-old.

"For now I'm just really happy to do some more slightly normal things, have a quiet few years to finish school, that sort of thing," Jessica Watson said.

Subscribe to our RSS News feed to receive updates. Related world records:
Youngest to climb world's highest peaks - Johnny Collinson sets world record

Youngest solo pilot to fly five different aircrafts-Evan Graham sets world record

Youngest passenger on wheightless flight-world record set by Jules Nader

Youngest relay team to swim the English Channel-world record set by English swimmers

Saturday, May 15, 2010