Thursday, January 28, 2010

Youngest to climb world's highest peaks - Johnny Collinson sets world record

SNOWBIRD, Utah, USA --17-year-old Johnny Collinson climbed the seven highest peaks on each of the 7 continents of the world , setting the world record for the Youngest to climb world's highest peaks.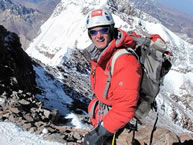 The trip took him to Alaska, Russia, Tanzania, Indonesia, Africa, Antarctica and Tibet, and cost his family about $150,000.

(enlarge photo)

Collinson said he did it to show other kids that there is more to life than the X-box and the Gameboy. "They need to get outside and be doing active things and even set goals of their own, maybe not Everest but setting their own goals as high as they can," Collinson said.

Known to the climbing world as the Seven Summits, the group of mountains include Alaska's Denali, Elbrus in Russia, Kilimanjaro in Tanzania, Indonesia's Carstensz Pyramid, and Mount Everest.

According to his Website, Collinson's father is a member of the Ski Patrol at the Snowbird Ski Resort in Cottonwood Canyon, Utah, and taught Johnny how to ski at age two. Two years later the young Collinson climbed Washington State's Mount Rainier.

Collinson, who was home-schooled by his mother and is a champion freestyle skier, began his quest for the Seven Summits a year ago when he climbed Argentina's Aconcagua (22,841 feet). Five months later (in May 2009), he stood on top of Mt. Everest (29,028 feet).

"He used to dream about standing on top of Everest ever since he was three," says his dad, an avalanche safety expert. "He'd picture himself standing up there in his windbreaker and tennis shoes."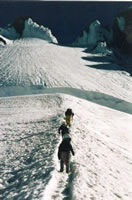 Along the way the 17-year-old discovered the peaks were not nearly as important as the cultures he encountered and the people who helped him get to the top.

Photo: Jim Collinson, top, leads daughter, Angel, 5, and Johnny, 4, up Mount Hood in Oregon. Johnny is attempting to reach the highest points on each of the seven summits. Collinson family photo (enlarge photo)

Johnny and his summits
January 18 , 2010 » Vinso Massif (16,067 feet), Antarctica August 20, 2009 » Carstenz Pyramid (16,023 feet), Oceania July 21, 2009 » Kilimanjaro (19,340 feet), Africa
July 8, 2009 » Elbrus (18,510 feet)), Eurasia
June 26, 2009 » Denali (20,320 feet), North America
May 19, 2009 » Mount Everest (29,030 feet), Asia
January 16, 2009 » Aconcagua (22,841 feet), South America

Collinson, who lives at Snowbird in Little Cottonwood Canyon, became the youngest climber to summit the top of each continent last week after stepping on the top of Antarctica's 16,067-foot Vinson Massif.
"Physically, none of them were that demanding," said the teenager. "I learned so much about the cultures of the different places I went. It was a great education and was really eye opening to see all those places in the world and to take a look at how people use their environment and look at how we treat our environment."

Regarded as one of mountaineering's most extreme challenges, only about 200 climbers can say they've bagged the Seven Summits. "This was difficult for him," says his father. "But he wanted it bad. It was the culmination of years of work and dreaming."

"He was being a typical teenager before the idea to try and make the Seven Summits came along. You know, not wanting to go on family vacations and not really focused on anything," said Jim Collinson. "He sure has changed. He became a man in the last year."

Collinson made the five middle summits, including Everest, with Damian Benegas and the first and last with his Damian's twin brother Willie. The brothers, recognized as among the world's best mountaineers, run Patagonian Brothers Expeditions.

Collinson said he is glad to be home and plans to relax this winter by doing his favorite hobby, extreme skiing in the Utah mountains.
"I am a little disappointed about having finished the goal, but I can really move forward with what I have learned this past year and integrate it into my future and into my life."

Related world records: Youngest world records

Subscribe to our RSS feed to receive updates.
Thursday, January 28, 2010