Thursday, May 28, 2009

Youngest Billiard Player-world record set by Keith O'Dell Jr

GLOVERSVILLE, NY, USA --25 months old Keith O'Dell Jr., is precocious at billiard, a game he has played for only four months-setting the world record for the Youngest Billiard Player.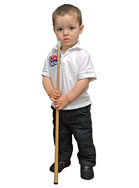 Keith O'Dell Jr recognizes the numbers on the balls and is not bashful about calling them as he shoots. Lately, his father said, he is picking up other pool lingo.

Photo: (enlarge photo)

The Youngest Billiard Player plays for two to three hours a day and his parents say as long as he's having fun, he can keep at it. "He's doing it on his own," Courtney said. "We're not helping him too much. He's just got it."

"He started with one ball out, two balls out, he's doing 15 balls on a run now. He's doing combo shots, bank shots, kick shots. He's got a whole slew of shots in his pool bag and he doesn't even have one yet," said Keith O'Dell Sr.

"His face, when he makes a shot, he is so excited. If he, we actually have one of the videos where he scratches and you just see this scowl on his face. It just brightens up everything," said Courtney O'Dell, Keith's mother.

He and his parents, Keith Sr. and Courtney O'Dell, recently traveled to New York City for an appearance on Rachel Ray's talk show.

In the last few weeks, O'Dell and his wife, Courtney, have been approached by Oprah Winfrey, Bonnie Hunt and Rachael Ray, all of whom sought an interview after seeing Keith Jr. shoot pool in a video on YouTube.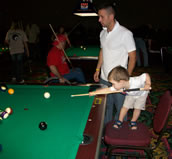 Since the post weeks ago, there have been imitators, but no one is quite like Keith Jr., his father said. It's mostly kids using a stick to hit the balls into the pockets. No one seems have the fine motor skills Keith Jr. has.

(enlarge photo)

Though it wasn't a complete surprise when Keith Jr. started playing pool, Keith Sr. and Courtney's first date was at a pool hall and they've been playing together, and with him, ever since. "My wife plays, my mother-in-law plays, my father-in-law, brother-in-law, sister-in-law," said Keith Sr.

As his father tells it, Keithy has advanced fine motor skills. He can throw a football, and his parents recently bought him a toy set of golf clubs. Who knows what he'll do with those.

"We want to keep it fun and make sure he enjoys it," Keith Sr. said. If the boy shows signs of losing interest, his father said the phenomenon will end. For now, though, Keithy appears to like his game.

"I love the game and I want to make sure he loves the game," his father said, emphasizing that they will take the spotlight away if Keithy is no longer having fun.

Keithy spent much of his young life sitting in his child seat watching his father practice nine-ball on the regulation table the family had in their previous home.

At Christmas time, Keithy spotted a toy table in a local store and was obviously drawn to it. Probably from studying his father's play all those months, the boy grabbed the miniature cue and demonstrated almost perfect form.

Not only is Keithy precocious at a game he has played for only four months, but the game may make him a mathematician. He recognizes the numbers on the balls and is not bashful about calling them as he shoots.

And who knows what the future holds for young Keith's 4-month-old brother, David, who now owns the child seat in the living room, right in front of Keithy's pool table.

Having a 23-month-old who can play pool does have its downside, though, O'Dell said. "Now, when I miss a shot, the line is, 'your son could have made that,'"O'Dell said, laughing.


Related world records:
Youngest to solo airplane and helicopters on same day-world record set by Errick Smith

Youngest male radio presenter-world record set by Jack Hill

Youngest college lecturer-world record set by Aman Rehman

Youngest passenger on wheightless flight-world record set by Jules Nader

Youngest Successful Singer-world record set by Cleopatra Stratan

Youngest human DJ world record set by Jack Hill

Youngest Person Performing Carnatic Music on the Violin - World Record set by Sandeep N Bharadwaj

Most expensive Baby photos: Angelina Jolie's twins sets world record

Youngest swimmer Maharnth set world record

Youngest college professor-world record set by Alia Sabur

Youngest pilot to set world flight records-Jonathan Strickland

Youngest leader of the Formula One world championship

Youngest lead climbing world champion-Johanna Ernst sets world record

Youngest person to win a Japanese Golf male tournament

Youngest relay team to swim the English Channel-world record set by English swimmers

Youngest Skydiver-world record set by Valentina Mihanciu

Strongest Girl-world record set by Jacqueline Wickens

Strongest Boy-world record set by Nicholas Ortiz

Youngest pilot completes round-the-world flight

Thursday, May 28, 2009