Youngest human DJ world record set by Jack Hill

[June 9] Weston, UK-- The youngest human DJ world record was set by Jack Hill (DOB 20/05/2000) who played his first paid live gig at the nook and harbour Weston on 5/5/07. Jack was paid £20 per hour, the normal rate for dj's. at this venue. The world record was witnessed by a local councilor.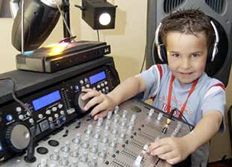 "Jack set up his own equipment, provided his own fliers and played for two hours on his own playing music and entertaining a crowd by talking and inviting requests"-says Jack's proud father Bob Hill.

Jack's first solo gig was a two-hour set for an outdoor family disco at the Nook and Harbour bar in Weston-super-Mare, Sommerset, and it attracted more than 100 people.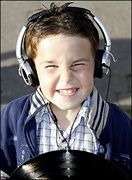 Bar manager Chris Kimitri said: "Jack organized the night himself, making flyers and handing them out to kids at his school. I think he'll be a big star one day."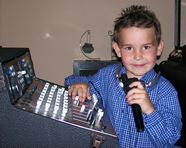 Six-year-old Jack Hill has been mixing records since the age of three and now the Walliscote Primary School pupil, who has his very own set of fulll-sized music equiment, is preparing to run children's discos at hte Nook and harbour in Knightstone Road, over the summer months.

He first stepped into the DJ booth to help run dad Bob's mobile karaoke disco three years ago.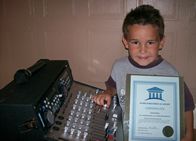 Bob, 42, said; "Jack has always loved coming with me to gigs, and would grab the microphone when I was working.
The first time I saw jack DJ-ing, I was amazed by how good he was.
I always pay him for the gigs and he saves all the money for new equipment." (enlarge photo)
Youngest human DJ Video:


In the News:
Jack, 8, is DJ whirl champ
The People- UK, 1 February 2009

Weston youngster named world's youngest radio presenter
Weston & Somerset Mercury, UK - Jan 28, 2009

Weston boy is world's youngest DJ


This is Bristol, UK - Jan 26, 2009

World's Youngest DJ- Jack Hill (PDF file)
XPress-Dubai - Jan 22, 2009

DJ Jack puts everyone in a spin

DJ Jack sets sights on T4 ; Jack on the box DJ at six

JACK, SIX, TURNS TABLES ON DJ DAD

BBC News (video): World's youngest DJ

JACK SPINS FOR RECORD

Related world record:
Youngest male radio presenter-world record set by Jack Hill