Youngest Tandem Skydiver: world record set by Valentina Mihanciu

[Nov 5] STREJNIC, Romania --The 9 year old Romanian VALENTINA MIHANCIU has set a world record for the youngest tandem skydiver, after performing a jup in tandem with her trainer at Strejnic, Ploiesti-Romania airfield, from a height of 4000 m, with a free fall of 55 seconds.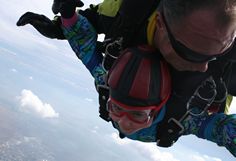 VALENTINA MIHANCIU is a laureate, IV grade pupil at Onisifor Ghibu High-School, Sibiu. She has been skiinng since she was one yr four months old. She is skating, dance and diving.
(enlarge photo)

She first flew at the early age of 6 months together with her parents on the board of a PZL-104, WILGA airplane.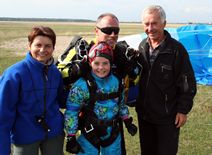 The father, VASILE MIHANCIU, is parachute jumping trainer, multiple national champion and world record holder with 6800 jumps and the mother
(enlarge photo)
TATIANA POPONEA is parachute jump trainer as well with 1800 jumps from airplanes.
The parachute jump trainer who has jumped with VALENTINA MIHANCIU in tandem, Nicolau Ramiro, is multiple national champion and he performed 6500 jumps up to this moment.


Skydiving after heart surgery: Laura Rites