Tuesday, May 25, 2010
Youngest FisherGirl - Ella Windschitl sets world record
RANDALL, Minn. -- 2-year-old Ella Windschitl was casting a Barbie fishing pole with her grandparents at Round Lake when she reeled in (with the help of grandpa David) a 30-inch muskie weighing in at a little under 20 lbs , setting the world record for the Youngest FisherGirl.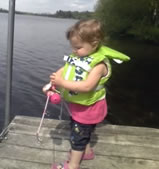 Photo: Ella Windschitl, the World's Youngest FisherGirl
(enlarge photo)

Kelly Haag says she was fishing with her granddaughter, 2-year-old Ella Windschitl, off the family's pontoon boat tied to the dock in three feet of water on Round Lake near Randall.

Ella, who comes from a long line of anglers, had never caught a fish until then.

She caught her first fish at Round Lake not with the star plastic lure on the Barbie fishing pole, but with a hook and worm.

"Ella had her sunfish on and she's reeling it in," her mom, Carrie Haag, said. "Here comes this big muskie that went and ate her sunfish. So I grabbed the pole and yelled for grandpa David."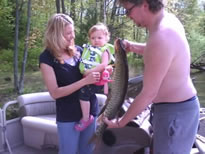 Photo: Ella, the World's Youngest FisherGirl with Kelly and Dave Haag. Photo courtesy: Haag family (enlarge photo)

Grandpa grabbed a net and soon they landed a 30-inch muskie weighing in at a little under 20 lbs -- a fish bigger than the fisherman who caught it.

The Barbie fishing pole survived it all and little Ella was so excited, she said the first thing that came to her mind -- "I caught a shark."

Haag says they took a quick picture and released the muskie. Haag says all the "boys" in the family have been trying for years to catch a muskie on the lake, but never succeeded.

Subscribe to our RSS News feed to receive updates. Related world records:
Youngest Vacuum Cleaners Specialist - Kyle Krichbaum sets world record

Youngest successful painter-Kieron Williamson sets world record

Youngest Skateboarder-world record set by Evan Wasser

Tuesday, May 25, 2010