Tuesday, October 19, 2010

Longest time survived underground after a mining accident - Chile miners sets world record
COPIAPO, Chile--33 miners trapped a half-mile underground for 69 days, when part of their mine collapsed, and for 17 days they were feared dead, were saved in a 24 hour, $20m rescue operation and were welcomed as national heroes - setting the new world record for the Longest time survived underground after a mining accident.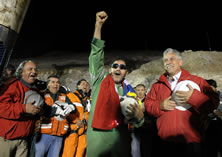 Photo: The last miner to be rescued, Luis Urzua, centre, raises an arm as Chilean President Sebastian Pinera, right, looks on after his rescue from the collapsed mine. Photo by: Alex Ibañez, Chilean Presidential Press Office. (enlarge photo)

The rescue operation, which is likely the most difficult of its kind in human history, led by Chilean President Sebastian Pinera, who mobilized national resources, deserved high appraisal and admiration because it demonstrated team spirit and efficiency and resulted in a complete success.

In an increasingly complex world, this was a tale that reminded the world of the enduring human values of friendship, resilience, resolve and ingenuity.

Pulled from the mine one by one in a custom-built capsule, the miners emerged as international celebrities, complete with high-end sunglasses that doctors said were hardly necessary to protect their eyes from sun and work lights after months in darkness.

While large Chilean mining firms have above-average safety records, small San Esteban operated its sole mine with high debt. After the collapse, the company admitted lacking resources to mount a rescue.
In hours, the government turned to Codelco, the state-owed company that called on experts from around the globe. The waiting men stretched a two-day supply of food for two weeks as rescuers drilled a small hole and discovered August 22 the men were alive.

The Chilean government coordinated teams from South Africa, the US and Canada and approved drilling three man-sized holes – also relying on New Zealand sensors, Australian 3D mapping technology, Japanese video technology, and a global bounty of health, shipping and entertainment supplies.
As drilling proceeded, Chile's navy constructed the capsule used to lift the men from 700 meters below, relying on some of 75 designs sent by NASA and other government agencies.

The US team – including a US Schramm rig donated by a nearby UK mining firm and a custom drill bit from Center Rock, a US firm that specializes in opening large holes – broke through first, ahead of schedule.
Center Rock's CEO traveled to Chile to oversee the operation. Drill operator Jeff Hart was pulled from drilling military water wells in Afghanistan. California-based Oakley donated stylish sunglasses for the miners' exit from the shaft.
No single company took credit for the rescue operation. The Chilean rescue depended on donated time and equipment.

Thanks to Chile's openness to the world and embrace of entrepreneurship, it was able to effectively deploy cutting-edge technologies.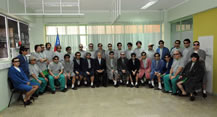 Photo: Chile miners gathered for photo. Photo by: Alex Ibañez, Chilean Presidential Press Office.
(enlarge photo)

President Pinera, speaking after the last of the miners was saved from almost half a mile underground, said Chile was "not the same country anymore".
He added that the country, which has had a troubled modern history and was run by the military as recently as the 1980s, was now "more united and stronger" for the remarkably smooth rescue of the men.

Below are the names of the Chilean miners:
1. Florencio Avalos Silva, 31
2. Mario Sepulveda Espinace, 39,
3. Juan Illanes Palma, 52,
4. Carlos Mamani Solis, 23, of Bolivia, the only non-Chilean trapped,
5. Renan Avalos Silva, 29, brother of Florencio Avalos.
6. Mario Gomez Heredia, 63, the oldest of the group who sent the first report to the surface that they were alive.
7. Jimmy Sanchez Lagues, 19, the youngest.
8. Ariel Ticona Yanez, 29, became a father during the ordeal. His daughter was named Esperanza, for Hope.
9. Edison Pena Villarroel, 34, ran 10 kilometres every day in the underground mine shafts.
10. Víctor Zamora Bugueno, 33, wrote poetry underground.
11. Raul Bustos Ibanez, 40, survived the Chilean earthquake earlier this year,
12. Claudio Yanez Lagos, 34, promised he will marry his partner of 25 years and mother of his children when he emerges. The pair have grandchildren.
13. Víctor Segovia Rojas, 48, kept a journal in the underground.
14. Jorge Galleguillos Orellana, 56, suffers high blood pressure and is one of the complicated medical cases.
15. Jose Henriquez Gonzalez, 54
16. Samuel Avalos Acuna, 43, had been a street seller of wares and had hoped for a better life in the mine.
17. Claudio Acuna Cortes, 34, football fan who plans to greet his wife wearing his team's shirt.
18. Franklin Lobos Ramirez, 53, avid football player who received greetings from Spain's David Villa.
19. Osman Araya Araya, 30, experienced a nervous collapse underground.
20. Yonni Barrios Rojas, 50, played nurse to his comrades in the mine.
21. Alex Vega Salazar, 31 , his father is an emergency doctor and changed his name in order to help in the rescue. Family members were not supposed to be part of the rescue team.
22. Richard Villarroel Godoy, 27
23. Daniel Herrera Campos, 27
24. José Ojeda Vidal, 46
25. Luis Urzúa Iribarren, 54
26. Carlos Barrios Contreras, 27
27. Omar Reygada Rojas, 56
28. Juan Carlos Aguilar Gaete, 49
29. Carlos Bugueño Alfaro, 27
30. Pedro Cortés Contreras, 25
31. Pablo Rojas Villacorta, 45
32. Darío Segovia Rojo, 48
33. Esteban Rojas Carrizo, 44.

A few had volunteered to go up first and several expressed a desire to go last in "a completely admirable show of solidarity", said the minister. One motive to be last, however, is a guaranteed place in the Guinness World Records for the longest time a miner has ever been trapped underground. Given the complexities of the current situation, it is a record that many expect to be insurmountable.

Chilean President Pinera said that the San Jose mine would be converted into a national monument to reflect hope for future generations.

Chile's government has promised to look out for the rescued miners, and each has about $12,000 in donations waiting for them in bank accounts.

Leonardo Farkas, a Jewish Chilean mining executive has written cheques worth $10,000 (US) to each of the 33 miners who were rescued.

The Great Orme copper mine on Great Orme's Head, Llandudno (Wales) has been named the largest Bronze Age copper mine in the world in the 50th anniversary edition of the Guinness World Record Book.

Subscribe to our free RSS News feed to receive updates.
Related world records:
Fastest relay race in stiletto heels - Australian women sets world record

Lowest limbo by a woman - Shemika Charles

Largest Food Drive - "Fill the Bowl" sets world record

Most dogs in costumed attire - Scarborough dogs

Most 'high-fives' in an hour - Hoffman Estates High School students

Oldest dance school graduate - Frederick Salter

Longest Catwalk - The Copenhagen Fashion Week

Most cars washed by a school - Bloomington High School South

Most Ganesha Idols Hand Made in 24 Hours - Rama Shah

Longest street party - 'Still Life'

Building the most sandcastles in one hour - Lewis Manning Hospiceworld

Loudest vuvuzela blow by a crowd - Hoogezand-Sappemeer

Wearing most underpants - Jack Singer

Most Expensive Diamond Tattoo - jeweler Yair Shimansky

Most people receiving a chair massage in 24 hours-Romano Sandee

Most Four Leaf Clovers Found in 15 Mins -John Stokes

First concert for dogs - 'Music for Dogs' concert

Most lipstick applications - Estée Lauder

Most Tattooed Woman - Julia Gnuse

Most T-Shirts Worn at One Time - Kruno Budiselic

Most Four Leaf Clovers Found in the Fastest Time - John Christian Stokes

Largest Water Initiative - Dow Live Earth Run for Water

Most plastic bottles collected - Florida students

Most Volunteer Hours - Donn Moss

Wearing most underpants at once - Gary Craig

Oldest Sex Toy - German siltstone phallus

Longest Hug - Faisal Mohyud-Din and Mohammed Azeem

Highest Launch of a Jewelry Collection – H'Art Design Ltd.

Most Hugs Given in 24 Hours - Jeff Ondash

Most whole blood donations - Phil Baird

Most Expensive Bride - Deven Trabosh

Longest time spent watching sports TV- Jeff Miller

Biggest support for charity-Justin Timberlake

Longest Freestyle Rap - M-Eighty

Longest Consecutive Massage Treatments - Costa John

Oldest couple to divorce - Bertie and Jessie Wood

Longest time spent in hotels - David and Jean Davidson

Highest Cabinet Meeting - Nepal cabinet

Most sky lanterns flown simultaneously - Indonesia

Fastest window cleaner - Terrry "Turbo" Burrows

Most Ganesha Idols Made in 99 days - Rama Shah

Smallest Tattoo of a painting - Wingnut

Oldest college graduate - Chao Mu-he

Longest career as a weather forecaster - Dave Devall

Most married woman - Linda Wolfe

Most kisses in one minute - DJ Paul Winstanley

Longest marriage for a living couple - Herbert and Zelmyra Fisher

Longest speech - Lluis Colet

Most popular Inauguration - Barack Obama inauguration

Largest Outdoor Tea Dance - Glasgow

Largest calligraphy lesson - Taipei

Most lambs sheared - Marg and Ingrid Baynes

Largest Secret Santa exchange - Boots

Most henna tattoos in an hour - Pavandeep Ahluwalia-Hundal

Longest personal name - Captain Fantastic

Most expensive presidential campaign - US Election

Fastest pumpkin carver - Steven Clarke

Longest movie-watching marathon - Suresh Joachim and Claudia Wavra

Longest poker playing marathon - Dave Cain

Most lighted candles on a cake - the disciples of Mr. Chinmoy

Most wheat harvested in 8 hours - Farmeco

Biggest fireworks show on the barge - Fireworks do Brasil

Longest outdoor preach - Revd Eric Delve

Longest Ironing Marathon - Ben Walton

Most saplings planted in one day - Assam villagers

Biggest comedy audience - Mario Barth

Longest game of Chinese Whispers - British kids

Biggest family tree - Roy Blackmore

Most Seats Sat in 48 Hours - Jim Purol

Most bird calls imitated - Gautam Sapkota

Most books donated - Rotary International

Most movies watched - Ashish Sharma

Youngest college professor - Alia Sabur

Longest continuous play of a single FPS - The Frag Dolls

Biggest individual supporter of schools - Husnu M. Ozyegin

Longest distance pushing a car - Ashrita Furman

Most tattoos given in 24h - Robbie The Coon

Most Math questions answered - worldwide students

Fastest cocktail mixing - Bobby Gleason

Most kisses in the skies - SkyEurope

Most ballon sculptures - John Cassidy

Longest singing marathon - Mandd Sobhann

Longest non-stop Elvis impersonation - Suresh Joachim

Youngest Person Performing Carnatic Music on the Violin - Sandeep N Bharadwaj

Most tattoos done in 24 hours - Kat Von D

Longest time spent inside an inflatable snowglobe - Ben Eckerson

Tuesday, October 19, 2010