Most Seats Sat in 48 Hours-world record set by Jim Purol

PASADENA, CA, USA -- Jim Purol set a World Record for "Most Seats Sat in 48 Hours" by sitting in 39,250 seats.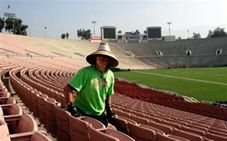 Photo: Jim "Mouth" Purol of Anaheim set a world record by sitting in all 92,542 seats of Pasadena's Rose Bowl. The 56-year-old Anaheim resident, wearing a hat to ward off the heat, started his quest Monday morning to set a World Record in the newly created category "Most Seats Sat in 48 Hours." ; AP Photo/Nick Ut. (enlarge photo)

The 56-year-old, who already holds several other world records, says he has dreamed of tackling the Rose Bowl seats for 20 years — ever since he sat in all 107,501 chairs at the University of Michigan's football stadium.

He's doing this to raise money for Outward Bound Los Angeles, an organization that provides nature based education to low-income, at-risk urban youth.
All the donations from Purol's sit-a-thon will go directly to Outward Bound's Los Angeles chapter. He hopes to raise about $10,000 by the seat-hopping effort, which could take about five days.

Jim "Mouth" Purol said of the stadium where he's attempting to set the record. "Because this is the granddaddy of stadiums in the world and the home of the Rose Bowl."

To ensure his success, Purol sits for 12 hours each day—stopping only for water and sun-block breaks. At night he sleeps in a locker room in the lower part of the stadium.

The biggest challenge for him beyond the arduous maneuvering from seat to seat has been the heat. "I just wish it was December," he said.

With a pad to cushion his aching backside and an umbrella-hat to shield his face from the sun, he continued sitting (and standing and sitting and…)
"Despite the heat, the smile has never left his face," said Abigail Curry, events coordinator for the Rose Bowl.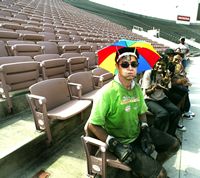 Photo: An exhausted Jim Mouth breaks a record Wednesday morning after sitting in nearly 40,000 seats at the Rose Bowl in Pasadena. It took Mouth 48 hours to set the record. He is cheered-on by Marti McClellan-Morehouse, Deputy Director of Outward Bound LA. Mouth is continuing his stunt by attempting to sit in every Rose Bowl seat over the next five days. (Walt Mancini / Pasadena Star-News) - enlarge photo

Jim Purol is 56, but he has just 9 percent body fat. He's a creature of habit and has done the same Gilad aerobic video workout in his home for 18 years. He's not a workout fanatic as he does weights twice a week and aerobics three times a week.

Jim Purol is a nutritional fanatic. In the morning, he eats oatmeal with a scoop of protein powder. He'll have a sandwich for lunch, and for dinner - his favorite - he'll have a protein shake of apples, bananas, grapes, nectarines, ice and two scoops of chocolate protein powder.

When he's busy doing up-downs in the seats in Pasadena, his food will be donated and delivered by The Spot, a catering company in Pasadena. Co-owners Sidney Burgess and Patty Fallahee will feed him fruits and light foods, like chicken sandwiches.

Like any other event at the Rose Bowl, Purol's endeavor required additional security, lights and liability insurance—all costs that the Rose Bowl was glad to incur for a good cause.

"I think he's kind of wacky," said Rose Bowl Assistant General Manager Jeff Waiters. "But it seems like he's doing a good thing for the community."

No stranger to innovative record-breaking, "Mouth" Purol earned his epithet by successfully sticking 280 straws into his mouth. Now, though, he may need to be renamed "Butt" Purol. He holds other 21 Guinness World Records.

Jim Purol, who lives in Anaheim, is a comedian/DJ/karaoke expert.

How does he prepare for something like his record run? He won't answer directly, but his reply goes like this: "The big thing is: No wife, no kids, no hits, no runs, no errors. In other words, I have a lot of free time."

The feat has taken a toll on his body and his cleanliness, as soot on the seats rubbed off on his clothes. He says he loves the Rose Bowl but calls the place "filthy."

Jim "Mouth" Purol: "I'm one of those weird guys. I have the biggest mouth in the world. I've set world records for most cigarettes, cigars, French fries and straws. This is a great publicity stunt. Outward Bound needs more public awareness. No one knows about it.
Outward Bound is about getting kids out of the innercity and getting them out of gangs and away from their normal friends and making new friends. It's about teamwork and trying to get them a new focus."

Next, he wants to wear as many grocery bags as possible. He's already tested a few hundred bags here and there.

Sunday, July 13, 2008