Most tractors in a parade-world record set by Marion residents

[Jan 9]MARION,MI, USA--There were 241 tractors in the parade during the Marion Old Fashioned Days and they set a world record for the most tractors in a parade.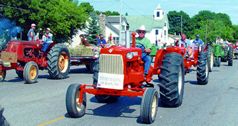 (enlarge photo)

"We worked hard to get people here with their tractors and we had a great response-said George Johnson, Marion Old Fashioned Days coordinator.

There were 26 communities represented in the parade. Communities represented in the tractor parade included: Grand Haven, Prudentville, Mancelona, hersey, Big Rapids, Grand Rapids, Vassar, Manton, Fife Lake, Luther, Chase, Cadillac, Gladwin, South Boardman, Fountain, Alger, Reed City, Chippewa Hills, Boon, McBain, Falmouth, Tustin, Lake City, Evart, LeRoy, Harrison, Bristo, and Childrens Peddle Tractors driven by family and friends.It was a great family oriented event that was enjoyed by all.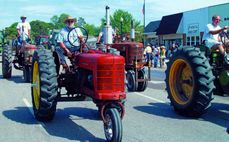 "It was one of those ideas that came up while we were having a cup of coffee," said George Johnson.

(enlarge photo)

We wondered what type of parade records there were so we looked online with Guinness Book of World Records. They had some for motorcycles, carriages and other modes of transportation but none for tractors. I couldn't believe it."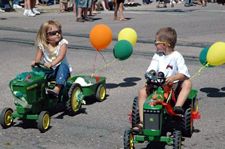 Two youngsters peddle tractors during the Marion Old Fashioned Days tractor parade in August.
(enlarge photo)
There were 241 tractors in the parade designated to set a world record for the most tractors in a parade.Photo: TANYA BERKEBILE | ADILLAC NEWS

Some of the interesting highlights of the tractor parade Saturday include (according to The Marion Press):
-Richard Blackledge of Marion drove his father's John Deere tractor which was purchased from a Hohn Deere dealer in Marion in 1954;
- Jim Ryan of marion had eight Minneapolis Moline tractors and one Ford tractor in the parade;
- The Don Osak family of Lake City had seven family members in the parade, each driving a diffrent tractor;
- The Salvati family from Morley had nine John Deere/Wheel Horse garden tractors in the parade;
- Several local framers from marion, McBain, Flamouth and Lake City had multiple netries in the parade.
The list of tractor parade participants,click here

The list of participants at the
world's largest tractor parade :
Leonard Ahrens
Alyssa Akin
Tom Baese
Gordon Bailey
Artesian Springs Medical Clinic
Jeff Barlow
Cameron Bancroft
Jim Baughan
Frank Beebe
Tom Boese
Brent Benavides
Brock Benavides
Linda Benavides
Rick Benavides
Martin Blackledge
Mike Blackledge
Richard Blackledge
Chris Bonham
Trey Bode
Mark Bode
Amy Bontekoe,
Brant Bontekoe
Damion Bontekoe
Doug Bontekoe
Isabell Bontekoe
Katrina Bontekoe
Mack Bontekoe
Mark Bontekoe
Mia Bontekoe
Owen Bontekoe
James Borders
Dale Brinks
Allison Brocht
Brian Brocht
Ethan Brown
Tom Brown
Ken Brueggeman
Dave Bush
Charles Butler
Larry Chamberlain
Ben Clark
Kean Clark
Lester Crippen
Len Dafoe
Aileen Dake
Taylor Downing
Eron Duclon
James Eash Jr.
Kari Edwards
Debbie Edwards
Bryan Eisenga
Bruce Eisenga
Darwin Eisenga
Don Eisenga
Jamie Eisenga
John Eisenga
Jason Eisenga,
Tyler Eisenga
Junior Ellens
Ray Faulman
Ellens Equipment Inc.
Fred Feikema
Homer Filey
Ken Foster Sr
Bob Fitzpatrick
Will Gasper
Jonathan Gillette
Lorna Grey
Maria Gillette
Mark Gillette
Rachel Gillette
Keith Grandy
Gary Gunnerson
Gary Hamel
Mark Hammar
Chad Heckathorn
Roger Hamming
Howard Heckathorn
Tammy Heckathorn
Barb Heistand
Megan Helmus
Dave Hendershot
Fred Heyd
Carol Hill
Roger Hill
Dave Hoekwater
LeRoy Hoffmeister
Holly Holdship
Patti Holdship
Dan Hollyday
Carrie Hose
Brian Hower
Eric Husketh
Calvin Hyzer
Beth Ashby-Hummel
Cole Hyzer
Dennis Hyzer
Jezalyn Hyzer
Ina Store Inc
Mark Ingersoll
Alex Johnson
Dale Johnson
Jim Johnson
John Johnson
Bob Keen
Lyle Johnson
Paul Johnson
Preston Johnson
Rebecca Johnson
Sam Johnson
William Johnson
Dale King
Brian Kanouse
Dan Kauffman
Sherry Kauffman
Jack Keehn
Tony Klaunis
Ralph Kornoely
Basil Kobiska
Ethel Kobiska
Trudy Kroesing
Wyatt Lambert
Stephen Larson
Dan LaChance
Michael Leys
Darlye Laughlin Sr.
Daryle Laughlin Jr
Ron Lloyd
James Lloyd
Norma Linstrom
Alan Lucas
Tim Lockhart
Lee Lowing
John Louk
John Louk Jr
John Lyon
Feather Morales-Lowing
Norm Maneke
Ernest Marsh
Clayton Martinson
Brian Meyer
Nichole McCrimmon
Mark Meye
McCrimmons Farm and Feed
Matthew McCallum
Bernie McKering
Richard Meyer
Todd Meyer
Randy Munn
Bernard Meyering
Douglas Miszewski
Jennifer Miszewski
Richard Moomey
Thomas Moomey
Vickie Mosher
William Mosher
Don Niver
Tiffany Nowland
Daulton Neuman
Moreka Neuman
Russ Newell
Daniel Noordhoek
Zach Olson
John Orvis
Patrick O'Riley
Don Osak
Ken Pearson
Lavern Pearson
Daryl Peterson
Scott Peterson
Walter Phelps
Rodney Philo
Paul Postal
Cody Purtell
Charles Purtell
Alexis Pylman
Jim Pylman
Sidney Pylman
Tim Pylman
Bruce Raymond
Rowland Raymond
Quast Family-Muddville Farm
David Robinson
Dee Robinson
Roger Roby
Matt Roby
Jim Ryan
Eric Salvati
Braden Salvati
Josh Salisbury
RudySalisbury
Bryce Salvati
Matt Salvati
Michelle Salvati
Reyne Salvati
Theresa Salvati
Bob Seelhoff,
Tana Seelhoff
Charles Shafer
Connie Shafer
Ron Sikke
Dean Smallegan
Lori Sluiter
Margaret Sluiter
Stevema
William Sikkema
Wyatt Sikkema
Al Simon
Tucker Sipe
Sluiter
Jarid Smith
Brandy Smith
Donald Smith
Al Sneary
Robert Sprague
Jarron Stack
John Stanhope
Chuck Stone
Karen Stone
Harry Swank Sr.
Julie Talaga
Carol Switalski
Steve Ware
Louis Switalski
Bob Timmer
Dale Toogood
Kaitlyn Touhey
David Truxton
Dale Ulrich
Marlene Ulrich
Doug VanBuren
Lorna VanBuren
Mark Venema
Al Vandenboss
Pete Vandenboss
Tim Vandenboss
Larry Vanderhoef
Marlin Venema
William Voelker
Lawrence Worth
Voelker Implement Sales Inc.
Dale Wing
Jim Weston
Danny Wilbert
Wendall Wing
Stuart Williams
Don Wonsey
Chrisha Zinger
[ Submit a world record ] [ World Record Certificate]
[ Book of World Records ] [ World Records Store ] [ Club ]



Fastest Jump Shooter in Billiards-Rocky Lane


Largest miniature railroad-Miniatur Wunderland


Fastest race around the 'World'-Rohan Veal

Most 10 scores at Olympics-Nadia Comaneci

Fastest board breaking-record set by Mitch Ellis