Biggest comedy audience-world record set by Mario Barth

BERLIN, Germany --Some 70,000 people packed the Olympic Stadium in Berlin on Saturday night for a show by German comedian Mario Barth, setting a new world record for the Biggest comedy audience.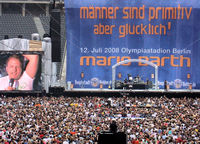 Photo:
Mario Barth in Berlin,
by flickr SpreePix

(enlarge photo)

The arena had been sold out for months for the show, the final stop on Barth's two-and-a-half-year tour "Men are primitive, but happy." The solo shows sold 1.7 million tickets. Mario Barth filled Berlin's Olympic Stadium, a stadium Madonna has yet to sell out for her current tour.

The 35-year-old comic, a Berlin native, is known for broad humor about gender stereotypes. On Saturday he hit familiar notes with jokes about shopping-addicted women, macho men and beer.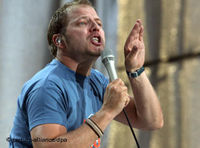 He runs through a repertoire of clichés, from parking to washing up.

Photo: DPA
(enlarge photo)

Barth even uses his own girlfriend as the inspiration for many of his jokes and says, "She has a good sense of humor and I can't really help that she is the way she is. It's all good fun."

His audiences tend to be composed mainly of 20-40-something couples, who, as the media has often reported, attend his performances instead of going to couples' therapy. "He really captures what relationships are like," one fan told local radio station Radio Eins after Saturday's gig.

Before the show, Mario Barth said American comedian Jerry Seinfeld was perplexed when he heard of the world record attempt. "He couldn't imagine that a single man would perform in front of so many people," Barth said.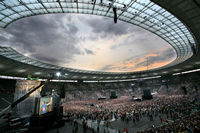 The crowd at the Berlin show was more than four times larger than the previous world record-holder, a 15,900-person show by American comedian Chris Rock in London.
Photo:DPA (enlarge photo)

German rock group Silbermond opened for Barth as a surprise guest. Singer Stephanie Kloss told the crowd the group had lost a bet to Barth. "This is what happens when you have a beer with Mario Barth and tell him, 'You'll never fill up the Olympic Stadium,'" Kloss said.

His man-of-the-people shtick is clearly key to his success. Born in Berlin in 1972, he grew up with five brothers in the working class neighborhoods of Kreuzberg and Neukoelln and trained at Siemens as an electrician before heading to the Canary Islands as a package holiday host.

Mario Barth came to the wider German public's attention when his bestselling "dictionary" German-Woman/Women-German, based on his comedy show, was released in October 2004. The book has sold more than 1.5 million copies and has been translated into many different languages.

The record-breaking show in Berlin was recorded by 19 cameras and will be shown on German TV in the fall. A DVD of the event is also planned.

Mario Barth Olympiastadion 2008

Mario Barth - Women and movies - subtitled
Mario Barth - Women and movies - subtitled - part 2
Mario Barth-Culcha Candela-HAMMA (funny helium version)

Tuesday, July 15, 2008