Tuesday, January 18, 2011
Youngest Singer: 3 Year-Old Atithi Gautam set world record
KATHMANDU, Nepal -- After started singing at the age of 2, imitating her elder sister, 3 Year-Old Atithi Gautam K.C. daughter of Uddhab K. C., renowned Singer of Nepal) released her own solo album entitled "Atithi", consisting 9 songs along with national anthem, at the Nepal Tourism Board - setting the new world record for the Youngest Singer.


Photo: 3 Year-Old Atithi Gautam Atithi, The World's Youngest Singer, performing live with orchestra during the Album release ceremony. (enlarge photo)

The Guinness world record for the Youngest violonist was set by Vanessa-Mae (UK), who recorded both the Tchaikovsky and Beethoven violin concertos, aged 13.

Guinness World Records also recognized another Nepalese prodigy: Temba Tsheri Sherpa successfully summited Mt Everest aged 16 years 7 days.

During the album release ceremony Athithi (born October 16, 2006) performed three songs live from her own album including national anthem simultaneously with live orchestra amazing chief guest Ambar Gurung (Vice chancellor of Nepal Music Academy) and huge mass of national and international media and audiences.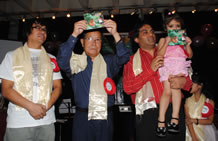 Photo: Mr. Ambar Gurung releasing the album.
(enlarge photo)

Surprisingly, she has good memory to grasp the lyrics, hit the perfect notes, keep the beat and understand the melody.

Before this, at the age of 2, she has performed live on state owned Television, radio station and various concert venues astonishing the huge audiences.

On the Net: Atithi Gautam's website

The Prime Minister and vice president of Nepal, Renowned bollywood actress Manisha Koirala are few among many other national and international dignitaries who considered her a musical prodigy of Nepal.

Subscribe to our free RSS News feed to receive updates.

Related world records:
Highest Cabinet Meeting: The Nepal cabinet

Most bird calls imitated: Gautam Sapkota

Longest Handshake: Team New Zealand and Team Nepal

Youngest to climb Mount Everest: Jordan Romero

Oldest Everest climber: Min Bahadur Sherchan

Highest Skydive Landing: Jai Kishan, Wendy Smith and Tom Noonan


Youngest person to discover a supernova: 10-Year-Old Kathryn Gray

Youngest World Map memorizer: 6-Year-Old Mohamed Ashik

Youngest live portrait artist - Harris Imtiyaz Khan

Youngest to state all the U.S capitals - Shruthi Vairavan

Youngest to state all the U.S capitals - Shruthi Vairavan

Youngest Opera Singer - Jackie Evancho

Youngest FisherGirl - Ella Windschitl

Youngest to climb Mount Everest - Jordan Romero

Youngest to circumnavigate the globe - Jessica Watson

Youngest Golfer to Score a Hole-in-One - Eleanor Gamble

Youngest person to have built an electric truck - Deitrich Ludwig

Youngest Vacuum Cleaners Specialist - Kyle Krichbaum

Youngest drum corps queen - Julia Lira

Youngest to climb world's highest peaks - Johnny Collinson

Youngest successful painter-Kieron Williamson

Youngest Skateboarder - Evan Wasser

Youngest wing-walker - Tiger Brewer

Youngest solo pilot to fly five different aircrafts - Evan Graham

Youngest String Orchestra to Play at Carnegie Hall - South Pasadena Children's Orchestra

Youngest Billiard Player - Keith O'Dell Jr

Youngest male radio presenter - Jack Hill

Youngest college lecturer - Aman Rehman

Youngest passenger on wheightless flight - Jules Nader

Youngest Successful Singer - Cleopatra Stratan

Youngest to solo airplane and helicopters on same day - Errick Smith

Youngest DJ - Jack Hill

Youngest Person Performing Carnatic Music on the Violin - Sandeep N Bharadwaj

Most expensive Baby photos: Angelina Jolie's twins

Youngest swimmer Maharnth

Youngest college professor - Alia Sabur

Youngest pilot to set world flight records - Jonathan Strickland
Youngest leader of the Formula One world championship

Youngest lead climbing world champion - Johanna Ernst

Youngest person to win a Japanese Golf male tournament

Youngest relay team to swim the English Channel - English swimmers

Youngest Skydiver - Valentina Mihanciu

Strongest Girl - Jacqueline Wickens

Strongest Boy - Nicholas Ortiz

Youngest pilot completes round-the-world flight

Youngest to circumnavigate the globe - Jessica Watson

Youngest rower to cross an ocean solo - Katie Spotz

Youngest to sail solo around world - Zac Sunderland

Youngest passenger to fly in microgravity - Jules Nader

Youngest to solo airplane and helicopters on same day - Errick Smith

Tuesday, January 18, 2011