Youngest pilot completes round-the-world flight

[June 29] BOSTON, US--A 23-year-old pilot by the name of Barrington Irving has become the youngest person to fly around the world alone.

The 23-year-old pilot flew a single-engine plane and finished his three month trip on Wednesday. He circled the Opa-locka airport and flew along the runway for the crowd before coming in for his final landing. Irving is an aerospace student who built his plane from $300,000 worth of donated parts.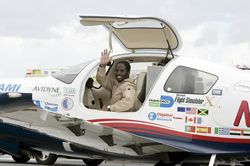 Photo:
Honorary welcome Solo pilot Barrington Irving, 23, receives an honorary welcome after landing at Opa-locka Airport . It took Irving three months to fly his Columbia Lancair round the globe visiting four continents. (AFP Getty Images/Robert Sullivan)
(click here to enlarge photo)

"I am home, I am proud to be Jamaican and I am happy to have lived out my dream in Miami," the Jamaican born Captain said.

"They told me I was too young. They told me I didn't have enough money and that I couldn't do this, that I don't have the wisdom, the strength or the experience. They told me I would never come back home," Irving, the world's youngest and first black man to set two world records by flying solo around the globe, said in Opa-Locka Airport in Miami.

Captain Irving, who is the youngest and first black person to fly solo around the world, told the many well wishers and supporters who welcomed him, that his mission was to inspire and uplift inner city children, some of whom were present, so that they too could dream and fulfill their purpose in life.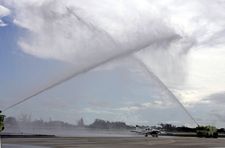 Photo:
Spectacular landing Miami Dade Fire Dept firetrucks shoot water canons as Barrington Irving, 23, taxis his plane upon arrival at Opalocka Airport. (Sun-Sentinel/Angel Valentin)
(click here to enlarge photo)

Encountering snowstorms, sandstorms, monsoons and even hurricanes, Captain Irving began his mission on March 23, and it took him across 27 countries.

Captain Irving was born in Jamaica and migrated with his parents to the USA at an early age. He studied aeronautical science at Florida Memorial College in Miami, while he made plans to embark on the mission. He expressed appreciation to his many sponsors through which he was able to raise almost US$1 million, which included acquiring the aircraft, a Lancair Columbia 400 single engine, for the historic mission.

Irving is an aerospace student who built his plane from $300,000 worth of donated parts. He departed the Miami-area on March 23rd to begin his three-month trip around the world. The plane is called "Inspiration." Irving claims he is the first black person and youngest person ever to complete the journey around the world alone.

Returning two months later than expected and at a cost of US$2 million, the young pilot has followed in the tradition of Charles Lindbergh, the first person to fly solo across the Atlantic Ocean.

According to recorded data, a 34 year-old German was the last person to tackle a solo world mission in 1996. Earlier, an 11 year-old boy flew around the world, but he was accompanied by his father.

While aviation experts do not chart records by age or ethnicity, Nathan Rohrbaugh, an assistant in record keeping at the National Aeronautic Association, said he didn't know of any younger pilots or black pilots to make a similar trip. Neither did earthrounders.com, an unofficial organization that tracks solo flights around the globe and supported Irving's trip.

Irving said his trip on Inspiration was to show younger people that they can do anything, if they believed and worked hard.

Irving said he now wants to return to his studies at Florida Memorial University. And he's ready for a difficult, but more personal challenge: learning how to swim.