Tuesday, August 11, 2009


Youngest solo pilot to fly five different aircrafts-Evan Graham sets world record

PASO ROBLES, Calif., USA -- Evan Graham celebrated his 16th birthday (on August 6) by soloing five different aircrafts: a vintage WWII L-4 Piper Cub taildrager, a R-22 Robinson helicopter, a Cessna 150 Aerobat, a Robinson 44 Raven II and a 1965 Cessna 150-150 , setting the world record for the Youngest solo pilot to fly five different aircrafts.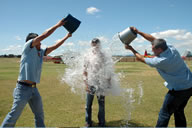 (enlarge photo)

Of his flight in the piper cub, Evan commented "The L-4 was my favorite, with my instructor out, the upgraded 85 horsepower engine, and myself weighing only 125 pounds, the little cub felt like it had turned into a full grown grizzly bear.
Being a vintage WWII war bird, the L-4 has no radio in it, so for once I was truly on my own, & it was a relief to be able to fly without the constant noise of instructors and family members giving me opposite directions."

Contesting with family members in the cockpit has always been a prerogative of flight for Evan. Evan's father an airplane pilot and high time professional helicopter pilot.

Lucila Arango, Evan's mother also did her solo flight at age 16 and is a commercial, instrument rated pilot is both airplanes and helicopters.

Evan's older brother, last summer did his solo the R-44 helicopter, also at the age of 16. As if having an older brother flying, a pilot mother and father was not enough, Evan is a third generation pilot and has been mentored in aviation, aerobatic, and vintage aircrafts by his maternal uncle.

"Evan has been flying since he was in the womb. He has been waiting a long time for his 16th birthday to comply with the FAA regulations for solo."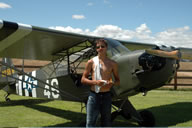 By the time of his world record flight came around, Evan had logged more than 150 hours of flight time. Most of the flight time had been on booster seats and not being able to see out of the cockpit.

(enlarge photo)

When finally the day came when there were no instructors of parents in the cockpit Evan said of the experience "I expected it to be exciting. What I was not expecting were the overwhelming feelings of freedom and solitude that come only from soaring the skies alone."

Each aircraft had a particular significance for Evan.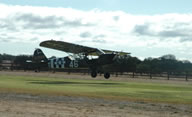 The L-4 is a Warbird, which was used as reconnaissance aircraft in Northern Africa in 1941.

(enlarge photo)

The Robinson 22 is his father's helicopter, the Cessna 150 aerobat was the same airplane his mother and father soloed in, the Robinson 44 is the helicopter his brother soloed, the 1965 Cessna is the airplane both of his maternal uncles did their solo in.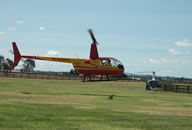 Evan was aware of the family history he was making that day but was only told about the world record after he had done all his solos.

(enlarge photo)

Errick Smith also soloed, on his 16th birthday one airplane and two helicopters. Evan added the taildragger component to the record, with the flight in the L-4 Cub. Taildraggers require a special sign off even for licensed pilots.

On a grass runway, with three flight instructors present and three sign off, Evan logged 2 hours of solo time in 5 different aircrafts, ending the morning before noon with the traditional bucket drench, which his older brother was happy to provide, the cutting of the T-shirt and a very grateful mom to now be able to say "Evan go fuel up the plane…"
Related world records:
Youngest String Orchestra to Play at Carnegie Hall-world record set by South Pasadena Children's Orchestra

Youngest Billiard Player-world record set by Keith O'Dell Jr

Youngest male radio presenter-world record set by Jack Hill

Youngest college lecturer-world record set by Aman Rehman

Youngest passenger on wheightless flight-world record set by Jules Nader

Youngest Successful Singer-world record set by Cleopatra Stratan

Youngest to solo airplane and helicopters on same day-world record set by Errick Smith

Youngest human DJ world record set by Jack Hill

Youngest Person Performing Carnatic Music on the Violin - World Record set by Sandeep N Bharadwaj

Youngest college professor-world record set by Alia Sabur

Tuesday, August 11, 2009