Youngest person to win a Japanese Golf male tournament
[May 22] TOKYO: A 15-year-old Japanese boy has become the youngest person to win a major golf tournament here, charming a public dazzled by a series of teen sporting sensations. Ryo Ishikawa, previously an unknown amateur, on Sunday earned the red winner's jacket of the Munsingwear Open, his first competition in a professional tour.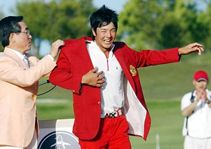 Photo:
High school student Ryo Ishikawa dons the winner's red jacket after victoy in Munsingwear Open KSB Cup. Photo: AP The surprise victory by the slim high school student graced the front pages of major newspapers and sports tabloids Monday, with television networks calling him a new "prince" of the Japanese golf world. "Feat by the 15-year-old," ran a headline in the Sankei Shimbun. "Ishikawa charges to overwhelm the pros," said another headline in the Mainichi Shimbun newspaper. "An unknown boy with 300-yard driver shots and handsome smiles achieved a prodigious feat that shakes the world of golf," said the Nikkan Sports tabloid. "New Hero!" declared the Nikkan Sports, while the Sankei Sports went even further, calling Ishikawa "More of a genius than Woods!"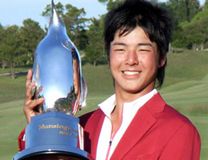 Photo:
Japanís Ryo Ishikawa holds the trophy after winning in the Munsingwear Open golf tournament at Tamano, western Japan on Sunday. / AFP
Ishikawa, who admires Tiger Woods, started golf at age six by going to a practice range with his father, a bank employee. He kept playing golf with his father and said his experience as a sprinter for the track-and-field team of his junior high school helped him build the leg muscles needed to play better golf.

"It was a dream round," said Ishikawa, who finished at 12-under 276. "I just kept trying to make birdies."
"There were only about 15 people - all people I know - watching me at the start," he said.
"I want to play against the world's best players. I want to be like Tiger Woods."

The previous record was set by Spain's Seve Ballesteros, who won the 1977 Japan Open when he was 20.

Ishikawa, a 15-year-old former national junior high school champion, shot a 6-under-par 66 in the final round for a one-stroke win over veteran Katsumasa Miyamoto in his first tour appearance

With the victory, Ishikawa set a new record as the youngest person to win a Japanese male tournament, previously held by Spanish world golf hall of famer Severiano "Seve" Ballesteros, who won the 1977 Japan Open at the age of 20.

"Tiger Woods, whom I watched on TV when I was in around fourth grade, is my ideal. The style of golf that I need to play is an aggressive one," Ishikawa said after his victory. Ishikawa's rise comes amid a barrage of other teen athletes who have captivated the local media and public in various sports, ranging from baseball to figure skating.
Among the most prominent teen athletes here is 16-year-old figure skater Mao Asada, a silver medalist in this year's world championship, who has wowed the nation with her jumps and smile.
Sources: AFP, AP, Reuters