Youngest leader of the Formula One world championship

[May 14] BARCELONA, Spain/ LEWIS Hamilton yesterday became the youngest leader of the Formula One world championship as he continued his record-breaking debut season with another second place, this time in the Spanish Grand Prix.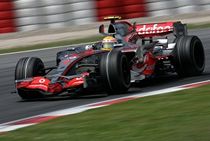 Photo:
Lewis Hamilton of Great Britain and McLaren Mercedes, in action during the Spanish Formula One Grand Prix at the Circuit de Catalunya in Barcelona, Spain. (Vladimir Rys/Bongarts/Getty Images)
At 22 years, four months and six days, Hamilton beat the record set by the man who started the team he is driving for, the late Bruce McLaren, who was a month older when he led the championship in 1960.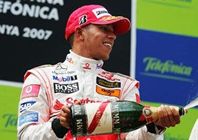 Photo:
Lewis Hamilton
"I keep saying I'm living my dream. It's true. To come into my fourth grand prix and come out of it leading the championship it is just incredible. I could not be happier. I came in to the season with an open mind, but never felt this was possible. I just hoped I would come in and do a good job. I have been working so many years for this. The whole thing is getting bigger and bigger. I'm going to be gunning for the win in Monaco."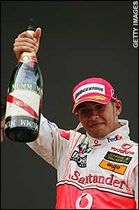 ďItís an amazing feeling. To be in this position is a dream. Itís just getting bigger. ďIím enjoying it, and I need to keep on enjoying it, and to keep on building up the points I have.



ďWhen I came into the sport I did so with an open mind, to do the best job I could, and that is what Iím doing. ďIíve good points, but I definitely didnít expect to be doing as well as I am.Ē


Double world champion Alonso finished third, eclipsed before his 140,700 strong home crowd by his McLaren team mate and the Brazilian winnerĖwith whom he had collided at the first corner.