Youngest to solo airplane and helicopters on same day-world record set by Errick Smith

OCEAN SPRINGS, MS, USA -- Sixteen year old Errick Smith
celebrated the big birthday by soloing a Cessna 172, and two helicopters, an R22 and a Schweitzer -setting the world record for the Youngest to solo airplane and helicopters on same day.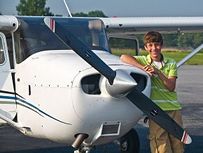 Photo: Smith says there's nothing like the rush of piloting an aircraft. "Once you get me up there, it's so addicting," Smith said. "It's just like there's no way they're going to keep me out of the air now."
Photo by Patrick Kelly @ Skyshots Photograhy (enlarge photo)

Smith said he decided to go for the record to show other young people what they can do when they set their mind to something. "When I like something, I really like something," he said. "When I set my mind to something, I stay focused."

His mother, Deonda Smith, said Errick has never been involved in sports. "This is his sport. This is what he likes to do."

He beat the old record by six months. Adding to his accomplishment, he flew not one helicopter, but two.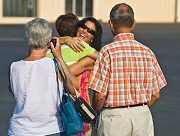 His mother, Deonda Smith, says Errick's interest in aviation has always been apparent. "He's always wanted to do this, he hasn't changed and wavered. He's just always had the love to fly," Deonda Smith said.

Smith's father, Dan, said: "The thing we were, as parents, excited about was that he had accomplished a personal goal that he wanted to accomplish and we were very proud of it."

Errick Smith's love for flight was instigated by his uncle, Pat Kelly, an aerial photographer in Atlanta, who would take the 7-year-old up with him during aerial photography missions, Dan Smith said.

Errick began taking flying lessons two years ago, when he got lessons as gift for his 14th birthday. At that time, he could barely see out of the cockpit. Deonda Smith remembers, "They had booster seats, at first, for him."

Because of federal aviation law, no one under the age of sixteen is allowed to fly solo, in planes or in helicopters. By flying alone on his sixteenth birthday, Errick Smith ensured that his record will never be broken.

Links:
Errick's Helicopter Instructor ; Errick's Airplane Training

He said he eventually hopes to own his own aviation-related b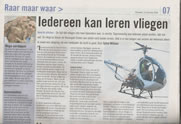 usiness such as flight charters, tours or training. "I can make a job out of it and fly for somebody and make money, so that I can feed my addiction of flying," Smith said.

Deonda Smith said her son's future as a pilot has its perks for her as well. "I just can't wait for him to start taking me places," she said.

Youngest to solofly a helicopter and a plane on same day
Kidsweek, Holland - December 18, 2008

Smith setting records at 16
EAA AirVenture Today, USA - July 31, 2008

Youngest to solofly airplane and helocopters
TinNhanh, Vietnam -Dec 2008

Youngest pilot-Errick Smith
Anninh Thudo, Vietnam- Dec 2008

Youngest pilot-Errick Smith
Hansfamily, Korea - Dec 2008

Errick Smith Breaking Solo Record Video




Related world records:
Most miles paddled in 24 hours on Stand Up Paddle Board -world record set by Justin DeBree

Youngest passenger on wheightless flight-world record set by Jules Nader

Monday, November 17, 2008