Wednesday, April 15, 2015

Largest tire track image: Hyundai breaks Guinness World Records record (VIDEO)

Delamar Dry Lake, NV, USA -- A fleet of Hyundai cars were used to send a sweet message from a teenager to her astronaut dad who is working at the International Space Station; using 11 Hyundai Genesis sedans, stunt drivers helped create a giant tire track image - spelling out "Steph Loves You!" in Nevada's Delamar Dry Lake; the image measured 59,808,480.26 square feet and was able to reach Stephanie's father in space, setting the new world record for the Largest tire track image, according to the World Record Academy. .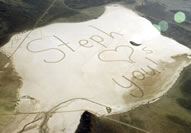 Photo: A fleet of Hyundai cars were used to send a sweet message from a teenager to her astronaut dad who is working at the International Space Station. Using 11 Hyundai Genesis sedans, stunt drivers helped create what Guinness called the world's largest tire track image -- spelling out "Steph Loves You!" in Nevada's Delamar Dry Lake. The image measured 59,808,480.26 square feet and was able to reach Stephanie's father in space. (enlarge photo)

The Guinness World Records' record for the largest tire track image measures 5,556,411.86 m² (59,808,480.26 ft²) and was achieved by Hyundai Motor Company (Korea) at Delamar Dry Lake, Nevada, USA, on 18 January 2015.

Guinness World Records also recognized the world record for the most people rolling tyres simultaneously - it is 299 and was achieved by the Merredin and Districts Agricultural Society (Australia) in Merredin, Western Australia, Australia, on 16 April 2011.

A fleet of Hyundai cars were used to send a sweet message from a teenager to her astronaut dad who is working at the International Space Station.

Using 11 Hyundai Genesis sedans, stunt drivers helped create what Guinness called the world's largest tire track image -- spelling out "Steph Loves You!" in Nevada's Delamar Dry Lake.

The image measured 59,808,480.26 square feet and was able to reach Stephanie's father in space.

(Astronaut Terry Virts, who is currently the commander of Expedition 43 has a teenage daughter named Stephanie.)

Related world records:
Longest wheelie on a UTV: Roger LeBlanc break Guinness World Records record (VIDEO)

Largest glow-in-the-dark painting: Nissan LEAF breaks Guinness World Records record (VIDEO)

Longest high-wire water crossing: Jaguar XF sets world record (VIDEO)

Fastest motorcycle wheelie on ice: Ryan Suchanek breaks Guinness World Records record (VIDEO)

Tightest car parallel parking: Alistair Moffatt has reclaimed his Guinness World Records' record (VIDEO)

Longest twin vehicle drifting: Nissan Middle East breaks Guinness World Records' record (VIDEO)

Fastest motorcycle wheelie on ice: Robert Gull breaks Guinness World Records' record (VIDEO)

Most donuts around a car driving on two wheels: Zhang Shengjun breaks Guinness World Records' record (VIDEO)

Longest truck jump: EMC Enterprise breaks Guinness World Records' record (VIDEO)

Tightest parallel parking: Chinese driver breaks Guinness World Records' record (VIDEO)

Fastest vehicle drift: Jakub Przygoński broke Guinness world record (VIDEO)

Juggling ping pong balls: Mark Angelo breaks Guinness world record

Most donuts in 100 seconds: Terry Grant breaks Guinness world record

Most consecutive backflips on a pogo stick: Dmitry Arsenyev breaks Guinness world record (VIDEO)

Most tennis balls held in one hand : Nepalese man breaks Guinness world record

Tightest parallel parking: British brothers broke Guinness world record (VIDEO)

Fastest wheelie on ice: Ryan Suchanek breaks Guinness world record (VIDEO)

Largest burnout: Summernats breaks Guinness world record (VIDEO)

Heaviest vehicle lifted with the breath: Brian Jackson breaks world record

Quickest wheelie over 100m: Ian Drummond breaks world record

Fastest mile juggling five objects: Matthew Feldman breaks world record (VIDEO)

Team Hot Wheels sets World Record for gigantic car double loop (VIDEO)

Most eggs balanced by a group: Taiwan's Dragon Boat Festival sets world record

Tallest human tower: Catalonian tower builders breaks world record (PICS & VIDEO)

Most juggling catches in a minute: Mark Hanson breaks world record (VIDEOS)

Most cans hit with a flying disc: Rob McLeod sets world record (PICS & Video)

Fastest toilet: Jolene Van Vugt sets world record (HD Video)

Largest stick bomb: Natick students sets world record

Most mugs held in one hand: Chris May sets world record (Video)

Most water balloons burst by a car: Alfa Romeo MiTo sets world record (HD Video)

Most chainsaw juggling catches: Ian Stewart sets world record (Video)

Riding unicycle on beer bottles: Lutz Eichholz sets world record (Video)

Most back wheel pogo hops: Ben Hoyle

Most consecutive donuts (spins) in a car: Terry Grant

Fastest Time to Balance a Dozen Eggs: Brian Spotts (HD Video)