Monday, July 2, 2012

Team Hot Wheels sets World Record for gigantic car double loop (VIDEO)

EL SEGUNDO, Calif., USA -- The Team Hot Wheels Double Loop Dare, a life-sized version of a Hot Wheels(R) orange track set, defied gravity and successfully set a world record after racing through a 60-foot-tall double vertical loop at X Games Los Angeles 2012, according to the World Record Academy: www.worldrecordacademy.com/.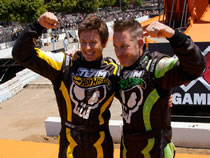 Photo: Team Hot Wheels green driver Greg Tracy and yellow driver Tanner Foust set World Record by successfully racing through a 60-foot-tall double vertical loop at the X Games Los Angeles. Photo: by Kent Horner/Invision for Mattel/AP Images (enlarge photo)

The Guinness world record for the largest Hot Wheels loop-the-loop has a diameter of 2.83 m (9 ft 3 in) and was created by Kevin Wagg (Canada). It was presented and measured in Waterloo, Ontario, Canada.

Guinness World Records also recognized the world record for the most loop the loop yo yo tricks performed in one hour: 8,437, set by 'Fast' Eddy McDonald (Canada) in Cavendish, Prince Edward Island, Canada.

Green Driver Greg Tracy, one of Hollywood's top stuntmen, took first place victory as he edged three-time X Games gold medalist and Hot Wheels(R) Yellow Team Driver Tanner Foust as the two simultaneously raced through the giant up-side-down loop.

"Boys of all ages around the world imagine playing with Hot Wheels on a life-size scale -- and our vision with Team Hot Wheels was to transform this fantasy into reality," said Simon Waldron, vice president marketing, wheels, Mattel.

"The Double Loop Dare was truly a can't-miss spectacle that altered the Los Angeles skyline. Anyone downtown couldn't miss this massive six-story-tall bright orange structure -- it was unmistakably Hot Wheels."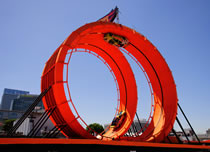 Photo: Team Hot Wheels green driver Greg Tracy and yellow driver Tanner Foust set World Record by successfully racing through a 60-foot-tall double vertical loop at the X Games Los Angeles. Photo by Kent Horner/Invision for Mattel/AP Images (enlarge photo)

The Team Hot Wheels™ Double Loop Dare was modeled after the new Team Hot Wheels™ Double Dare Snare™ track set — available globally at retail — which lets boys race their 1:64 scale Hot Wheels® cars side-by-side in a vertical loop competition.

The larger than life Double Loop Dare incorporated an enormous side-by-side loop, exerting a force of 7 G's which Team Hot Wheels™ drivers took on at a speed of 52 MPH.

"I've been a fan of Hot Wheels since I was a little kid, racing cars around my parents' living room," said Tracy, a six-time Pikes Peak Champion and a Hollywood stuntman since 1991.

"So to be able to be a part of something like this — with Hot Wheels bringing one of its toys to life — is remarkable."

Meanwhile, Foust, who provided tremendous competition, and spirit can continue to boast about his latest world record obtaining the longest distance vehicle jump at last year's Indianapolis 500.

Additionally Foust a world-renowned professional stunt driver has two Formula Drift Championships complimenting his three X Games gold medals.
He will be racing for more X Games glory in the RallyCross competition Sunday July 1 on ESPN.

Related world records:
Most eggs balanced by a group: Taiwan's Dragon Boat Festival sets world record

Tallest human tower: Catalonian tower builders breaks world record (PICS & VIDEO)

Most juggling catches in a minute: Mark Hanson breaks world record (VIDEOS)

Most cans hit with a flying disc: Rob McLeod sets world record (PICS & Video)

Fastest toilet: Jolene Van Vugt sets world record (HD Video)

Largest stick bomb: Natick students sets world record

Most mugs held in one hand: Chris May sets world record (Video)

Most water balloons burst by a car: Alfa Romeo MiTo sets world record (HD Video)

Most chainsaw juggling catches: Ian Stewart sets world record (Video)

Riding unicycle on beer bottles: Lutz Eichholz sets world record (Video)

Most back wheel pogo hops: Ben Hoyle

Most consecutive donuts (spins) in a car: Terry Grant

Fastest Time to Balance a Dozen Eggs: Brian Spotts (HD Video)

Longest car drift: Mauro Carlo (HD Video)

Heaviest bee suit: Zhang Wei

Most Pencils Stuffed In A Mouth: Dinesh Shivnath Upadhyaya

Longest bicycle wheelie: Aaron Stannage
Fastest bicycle wheelie: Jake Drummond
Longest Backwards Limbo Skating Under Bars: Abhishek Navale
Most people walking on stilts: Cirque du Soleil

Monday, July 2, 2012 4:12 PM