Thursday, May 24, 2012

Most cans hit with a flying disc: Rob McLeod sets world record (PICS & Video)

CALGARY, AL, Canada -- Rob McLeod, a resident of Calgary, Alberta, Canada, knocked over 28 drinks cans in one minute with Innova Zephyr's, which are used for disc golf, setting the world record for Most drink cans hit with a flying disc in one minute, according to the World Record Academy: www.worldrecordacademy.com/.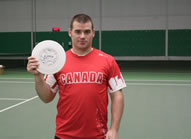 Photo: Calgarian Rob McLeod set a World Record for knocking over 28 cans in one minute with a flying disc. Photo courtesy: Rob McLeod (enlarge photo)

The Guinness world record for the record for the most people to simultaneously throw a flying disc is 853 at an event at Bethel College, North Newton, Kansas, USA.

Guinness World Records also recognized the world record for the most participants in an ultimate flying disc exhibition match: 70, by members of the Nottingham Moderns Rugby Club (UK) in Notthingham, UK.

"This was a dream come true for me. Ever since I was a kid, I used dream about what record I would someday hold. To tell people I'm a World Record holder makes me feel like a kid again. I couldn't be more excited for this to happen," said McLeod.

This marks the third world record for McLeod, having previously set the Skyhoundz World Record in Xtreme Disctance with his canine friend Davy Whippet and the Quadruped World Record, again with Davy Whippet.

McLeod has his sights set on many more world records including the longest throw, longest throw to a dog and longest field goal with a flying disc.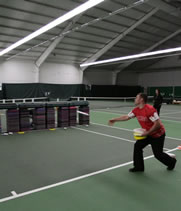 (enlarge photo)

In order to set a World Record, it requires an application process, a stringent documentation process during the record attempt and an approval process.

McLeod also competes in disc golf, and other disc sport events including ultimate Frisbee, self caught flight and human freestyle although the latter is a sport he's just gotten into.

McLeod's goal is to raise the awareness of disc sports and to get more people involved. You can follow his progress and see all of his results on his website www.frisbeerob.com .

Related world records:
Most mugs held in one hand: Chris May sets world record (Video)

Most water balloons burst by a car: Alfa Romeo MiTo sets world record (HD Video)

Most chainsaw juggling catches: Ian Stewart sets world record (Video)

Riding unicycle on beer bottles: Lutz Eichholz sets world record (Video)

Most back wheel pogo hops: Ben Hoyle

Most consecutive donuts (spins) in a car: Terry Grant

Fastest Time to Balance a Dozen Eggs: Brian Spotts (HD Video)

Longest car drift: Mauro Carlo (HD Video)

Heaviest bee suit: Zhang Wei

Most Pencils Stuffed In A Mouth: Dinesh Shivnath Upadhyaya

Thursday, May 24, 2012 11:32 AM