Wednesday, June 20, 2012

First person to walk tightrope across Niagara Falls: Nik Wallenda sets world record

NIAGARA FALLS, N.Y, USA — Daredevil Nik Wallenda, 33, stepped gingerly into the record books, crossing Niagara Falls on a tightrope suspended 200 feet in the air and setting the world record for the First person to walk tightrope across Niagara Falls, according to the World Record Academy: www.worldrecordacademy.com/.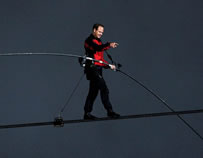 Photo: Nick Wallenda, the first person to walk tightrope across Niagara Falls. Photo: Aaron Vincent/AP (enlarge photo)

The Guinness world record for the longest tightrope crossing by bicycle is 71.63 m (235 ft) and was achieved by Nik Wallenda (USA) in Newark, New Jersey, USA.

Guinness World Records also recognized the world record for the highest tightrope crossing by bicycle: 238 ft (72.5 m), by Nik Wallenda (USA) between the Royal Towers of the Atlantis Paradise Island hotel in Nassau, The Bahamas.

The 33-year-old funambulist from the famous Flying Wallendas clan pumped his fist in the air as he neared the end of the 1,800-foot journey witnessed by 4,000 ticketholders and millions on ABC.

"This is something that no one in the world has ever done," he boasted later, dedicating the feat to his great-grandfather, Karl Wallenda, who fell to his death in 1968 while attempting to walk between the towers of the 10-story Condado Plaza Hotel in San Juan, Puerto Rico.

After he conquered the wet and winds of the falls and headed into the home-stretch, he admitted he was getting tired of holding his balance bar.

"My hands at this time feel like they're going numb. I'm feeling weak," Wallenda said soon after crossing the invisible U.S.-Canadian border in midair -- with his passport.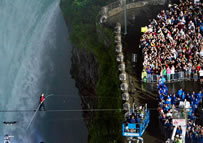 (enlarge photo)

The seventh-generation tightrope walker holds six Guinness World Records, including one for the longest bicycle ride on a tightrope without a safety net.

He's already planning his next challenge.

"I have permits to walk across the Grand Canyon, which no one's ever done," he said.

"And I'm also working on permits to walk from one continent to another in Turkey. And there are many other things that I'd like to do."

Related world records:
Highest skydive without parachute: Gary Connery sets world record (PICS & Videos)

Largest rope swing: Devin Graham and his friends sets world record (HD Video)

Fastest to jump over three moving cars: Aaron Evans sets world record (Video)

Most consecutive formation loops: The Blades (Video)

Oldest woman to bungee jump: Frances Gabe (Video)

Highest Blob Jump: Paintballfarm (HD Video)

First BMX triple Backflip: Jed Mildon (HD Video)

Longest ramp jump: Tanner Foust (HD Video)

Largest balloon cluster flight: National Geographic (Video)

Highest cable wire walk: Swiss acrobat Freddy Nock

Most bungee jumps in one hour: James Field

Highest bicycle ride: Nik Wallenda
Highest jump on roller skates: Taig Khris
Smallest Wingwalker: Kiran Shah
Oldest bungee jumper: Mohr Keet
Longest jump in a Harley-Davidson: Seth Enslow
Longest Jump in a Rally Car: Travis Pastrana
Youngest wing-walker: Tiger Brewer
Biggest skydiving formation: US skydivers
Oldest wing walker: Tom Lackey
Highest jump on a motorcycle: Ronnie Renner
Fastest jet-pack flight: Eric Scott
Highest motorcycle jump: Robbie Maddison
Highest Bicycle Ramp Jump: Timo Pritzel and Joscha Forstreuter
Fastest Text Messaging While Skydiving: Samsung Mobile
Back flip in a wheelchair: Aaron Fotheringham
Highest and longest bike-ride: Nick Wallenda
Most bungee jumps in 24 hours: Mike Heard
High-wire walking world record
Longest mid-air suspension: Dixie Dooley
Most roll-downs from aerial silks: Brandon Pereyda

Wednesday, June 20, 2012 7:56 AM