Monday, June 25, 2012

Tallest human tower: Catalonian tower builders breaks world record (PICS & VIDEO)

NEW YORK, NY, USA -- The Castellers de Vilafranca team had built an eight-person high human tower on a skysraper roof in Manhatten - setting the new world record for the Tallest human tower, according to the World Record Academy: www.worldrecordacademy.com/.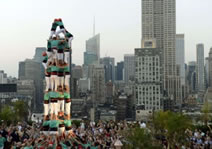 Photo: The World's Tallest Human Tower. Photo: AFP (enlarge photo)

The 150-strong Castellers de Vilafranca team took about five minutes to get into position. The world record attempt was in honour of the rebuilding of the World Trade Center complex.

The Guinness world record for the tallest human tower consists of 6 people standing on top of each others shoulders and was performed by the Fuyong Acrobatic Arts Group of Bao An District (all China).

Guinness World Records also recognized the world record for the oldest touring circus in the world, set by the Circo Atayde, which opened on August 26 1888 in the Plaza de Toros, Mazatlán, Mexico, and has been run continuously by the Atayde family ever since.

The group showcased the traditional Catelonian pastime of human tower building as they attempted to construct the first eight-level human tower, or castell, ever assembled on a rooftop.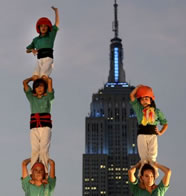 (enlarge photo)

The Castellers de Vilafranca - a 150-strong team - performed the daredevil stunt on a Manhatten rooftop without the use of any ladders or nets.

It's only the second time human towers have ever been built in the United States, but it's a new world record – an eight human tier tower, which is 40 plus feet.

Related world records:
Most juggling catches in a minute: Mark Hanson breaks world record (VIDEOS)

Most cans hit with a flying disc: Rob McLeod sets world record (PICS & Video)

Fastest toilet: Jolene Van Vugt sets world record (HD Video)

Largest stick bomb: Natick students sets world record

Most mugs held in one hand: Chris May sets world record (Video)

Most water balloons burst by a car: Alfa Romeo MiTo sets world record (HD Video)

Most chainsaw juggling catches: Ian Stewart sets world record (Video)

Riding unicycle on beer bottles: Lutz Eichholz sets world record (Video)

Most back wheel pogo hops: Ben Hoyle

Most consecutive donuts (spins) in a car: Terry Grant

Fastest Time to Balance a Dozen Eggs: Brian Spotts (HD Video)

Longest car drift: Mauro Carlo (HD Video)

Monday, June 25, 2012 4:05 PM