Sunday, May 27, 2012

Most beach balls in the air: Legoland sets world record (PICS & VIDEO)

WINTER HAVEN, FL, USA -- To celebrate the opening of Legoland Water Park, 1355 guests simultaneously threw beach balls into the air - setting the new world record for the most beach balls in the air simultaneously, according to the World Record Academy: www.worldrecordacademy.com/.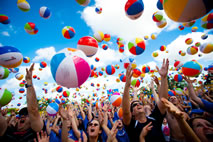 Photo: First-time guests at LEGOLAND Florida's all-new water park today smashed a Guinness World Record for the most people bouncing beach balls. The final number hit 1,355,.which shattered the previous record of 401. The colorful event celebrated the addition of the water park attraction, which opened to the public Saturday, May 26. All Photos: Legoland/Chip Litherland. (enlarge photo)

The previous Guinness world record stood at 401, but the 1,355 special guests, who also got to sample the water park before its official opening, smashed the figure.

Guinness World Records also recognized the world record for the most balls released simultaneously: 10,000- at the Mega Pic-Nic 2010 organized by Realizar Eventos Especiais and Modelo in Parque Eduardo VII, Lisbon, Portugal.

This record-setting attempt was held during the media preview of Legoland Water Park at Legoland Florida in Winter Haven.

As the crowd was given the signal, the sky turned into a rainbow of reds, whites, blues, yellows and greens.

Adrian Jones, general manager of Legoland Florida, called it "incredible."

"We announced we were going to do this ridiculous stunt to let people in but we had over 1,300 people turn up," Jones said. "Some of them were here half past 10 last night and camped out and we've just broken a world record.

Guest were allowed to keep the beach balls.

A "park within a park," the attraction includes Build-A-Raft River, where guests can build their own LEGO inner tubes and float down a 1,000-foot lazy river.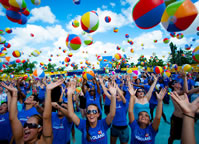 (enlarge photo)

For the little ones, the DUPLO® Splash Safari is a toddler haven with perfectly sized slides a zero-depth wading pool.
Guests of all ages can play for hours at the Joker Soaker water playground, a riot of brightly colored ladders, levers, pumps and slides of every length and type.

And a 583,000-gallon, crystal-clear wave pool and five slippery-fast water slides will thrill families all day long.

Admission to the water park will be a $12 add-on to the price of a regular ticket. To find out what kind of fun the new water park is offering, go to www.legoland.com.

Related world records:
Most people firewalking: Eastbourne Scout Group sets world record

Most Children Smiling In a Photo: Romanian Child Helpline sets world record (Video)

Most simultaneous high-fives: Zappos.Com sets world record (Video)

Longest Handshake Chain: Habib Bank Limited (HBL) staff sets world record (Video)

Largest gathering of ITIL-Certified Professionals: Pink Elephant Conference set world record

Largest torch-lit parade: Indonesia sets world record (Video)

Largest human mattress dominoes: New Orleans sets world record (Video)

Most people knitting simultaneously: Taiwan

Most People Shaving with an Electric Shaver: 2000 men

Most people to write a story: Ireland students (Video)

Largest tree hug: Forestry Commission England (HD Video)

Longest kissing chain: Utah State University (Video)

Most people bouncing paddle balls: 356 paddleballers (Video)

Largest underwater wedding: Polish couple (Video)

Most people applying sunscreen: Cedar Point (Video)

Most People Planking Simultaneously: Hillcrest College set world record

Most twins and triplets in one class: Keller middle school

Most people to shower simultaneously: Lynx (HD Video)

Most people bouncing beach balls: Cedar Point (Video)

Most people showering simultaneously: Dickson City

Most people on space hoppers: Yorkshire (Video)

Most people floating on noodles: Lake Lotawana (Video)

Longest chain of people licking ice cream: Morelli ice cream (Video)

Most people modeling on a catwalk: Express set world record

Most people husking corn: Knott's Berry Farm (Video)

Largest piggy back race: Dundee WestFest (HD Video)

Largest skinny dip: Britain's National Trust (HD Video)

Most Flashlights Lit Simultaneously: NASCAR Fans (Video)

Largest Zumba class: Clemson University (Video)

Most people standing on one leg simultaneously: Darien students

Most people carrying water jugs: Friends of World Vision (Video)

Most People Dyeing Eggs: Carowinds (Video)

Most people rolling tyres simultaneously: Merredin (Video)

Most people star jumping simultaneously: Boys & Girls Clubs (Video)

Most people arm wrestling: Staples High School

Most people apple bobbing: Ontario Apple Growers (Video)

Most multiple-birth children in a single class: Richardson school

Most Santas surfing at the same time: Surfing Santas

Most people simultaneously on a bed:NakedSleep.com

Most people spinning dreidels: Yeshiva University students

Largest gathering of people with mustaches: Minnesota hockey fans

Largest Halloween Party: New Orleans Saints fans

Largest 'Chi-Kung Eight Brocade Coils' Exercise: Lifetree

Largest piggyback race: The History Maker Foundation

Sunday, May 27, 2012 10:54 AM