Saturday, November 1, 2014

Longest playable stringed musical instrument: CapitaLand Ltd. Singapore breaks Guinness World Records record (VIDEO)

SINGAPORE -- Singapore's largest condominium project, d'Leedon, near Farrer Road, marked its completion; it got America's Got Talent's William Close to play The Earth Harp which stretched from the d'Leedon's clubhouse rooftop to another tower at the other end; the length of one of its its longest strings measures 291.71 metres, setting the new world record for the Longest playable stringed musical instrument, according to the World Record Academy: www.worldrecordacademy.com/.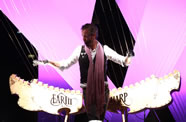 Photo: Residents of d'Leedon celebrated the completion of the eight-hectare residential development by witnessing a world record-setting feat on Saturday. Musician William Close played the world's longest stringed instrument, the Earth Harp, which was stretched from the development's clubhouse rooftop to the 36th floor of another tower at the other end. All Photos: CapitaLand Limited/WRA (enlarge photo)

The Guinness World Records' record for the largest string ensemble consisted of 858 players from Hillsborough County String Teachers and Students (all USA) at Williams Middle Magnet School in Tampa, Florida, USA, on 11 May 2011.

Guinness World Records also recognized the world record for the largest human image of a musical instrument; it was formed by 1,660 people creating the shape of a saxophone in the Promenade du Paillon in Nice, France, on 21 June 2014.

D'Leedon is the largest private residential development in Singapore so far and the first high-rise residential project to be designed by world-renowned architect Zaha Hadid.

CAPITALAND'S d'Leedon hosted the Earth Harp, the world's longest playable stringed musical instrument ever set up, at the development's celebration party. There, Lim Ming Yan, President and Group CEO of CapitaLand Limited, tugged the strings of the Earth Harp with musician William Close (above).

At the event, CapitaLand Limited set a new world record as William Close played his new piece titled Mini Symphony For The Earth Harp on the instrument.

The length of the longest of 16 strings – which was 291.71 metres – was certified by A*STAR's National Metrology Centre, the custodian of the national measurement standards in Singapore, with the record-setting feat recognised by the World Record Academy.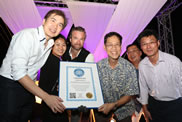 The World Record was verified and certified on site, and a World Record Academy Certificate was handed to CapitaLand by Ms Cheng Ying Cai, a Singapore-based attorney-at-law. (enlarge photo)

The record-setting event was organized by Singapore-based The Event Company.

An annual survey by the World Bank rates Singapore, for the ninth consecutive year, as the best country in which to do business, UPI reported.
The survey notes taxes, construction costs and time to establish a business, among other factors, in the country's largest cities in compiling its list of 189 countries.
Facebook co-founder Eduardo Saverin now lives a rarefied life in Singapore, the Daily Mail reported.
He relocated to Singapore in 2009 and renounced his American citizenship.

That move was seen as a strategy to avoid paying taxes on the money from the Facebook flotation, and he has received heavy criticism for it.
But the man himself says he sees the move as an opportunity to engage in more sophisticated financial activities. He said it placed him at the nexus of China, Indonesia and India, where social networking is still in its infancy, Daily Mail reported.

Pre-registration: July 4, 2014
Pre-approval: July 6, 2014
Temporary certificate received: Oct 19, 2014
Final Application received: Oct 31, 2014
Record verified & published: Nov 1st, 2014



Related world records:
Largest orchestra: Australia breaks Guinness World Records' record (VIDEO)

Largest gospel choir: London Community Gospel Choir broke Guinness world record (VIDEO)

Longest Relay Marathon Drumming by a Team: ACM breaks Guinness world record (VIDEO)

Longest drumming session: Andrew W.K. breaks Guinness world record (VIDEO)

Largest Keyboard Ensemble: New York festival breaks Guinness world record

Most consecutive pirouettes: Sophia Lucia smash Guinness world record (VIDEO)

Best Selling Latin Artist: Julio Iglesias breaks Guinness world record (VIDEO)

Fastest violinist: Ben Lee breaks Guinness world record (VIDEO)

Longest marathon playing accordion: Zoran Zorko breaks world record (VIDEO)

Largest ukulele ensemble: Japan Ukulele Ensemble sets world record

Largest lute ensemble: China sets world record

Largest mandolin ensemble: Va. Music Gathering sets world record (VIDEO)

Most National Anthems performed: Alan St. Louis sets world record (VIDEO)

Highest Concert: Oz Bayldon breaks world record (PICS & VIDEOS)

Largest bagpipe orchestra: Bulgarian pipers set world record (PICS & VIDEOS)

Longest trumpet fanfare line: British soldiers set world record (Video)

Longest Guitar Solo: David DiDonato sets world record (Video)

Longest drumming marathon: Steve Gaul (HD Video)

Longest church organ marathon: Jacqueline Sadler

Deepest a cappella performance: Sudbury choir

Fastest Violin Player: Rock Violinist Ben Lee

Largest Guitar Ensemble: Jimi Hendrix Festival sets world record (PICS & Videos)