Friday, January 21, 2011
Most Expensive Apartment Building: One Hyde Park sets world record
LONDON, UK -- One Hyde Park, situated over London's picturesque Hyde Park, has 86 luxury apartments (think condominiums) that cost up to $220 million apiece ($9,500 per square foot) based on current exchange rates - setting the new world record for the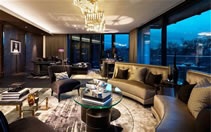 Most Expensive Apartment Building.
Photo: A reception room in one of the flats at One Hyde Park, The World's Most Expensive Apartment Building.
(enlarge photo)

The Guinness world record for the Most expensive house valuation: $165 million (£81.7 million) was set by the former home of William Randolph Hearst (USA). The 6,967-m² (75,000-ft²), H-shaped Mediterranean villa is set in 2.6 ha (6.5 acres) of land in Beverly Hills, California, USA and boasts 29 bedrooms, 40 bathrooms, three swimming pools and even its own nightclub.

Guinness World Records also recognized The Most expensive office location: London's West End, where the cost per 1m² (10 ft 9 in²) per month including rent, taxes and service charges was £107 ($201).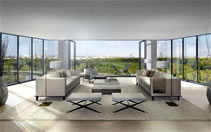 Photo: Some of One Hyde Park's more expensive apartments boast bullet proof windows and a panic room. (enlarge photo)

Ned Baring, the lead agent from Savills in charge of selling the apartments, said: "We've had strong interest from clients around the world. The launch has been extremely successful and resulted in around 60 bookings for viewings next week.

"This is the best residential development in the world, and the international interest, in particular, is very strong."

Since opening in 2008, One Hyde Park has catered to business moguls from Russia and Arabic countries, who enjoy a number of exclusive benefits including high-tech security systems, bulletproof windows, and an underground tunnel linking the complex to a nearby luxury hotel (which provides concierge services and gourmet cooking delivered via room service).

The emphasis here in on security and secrecy, with residents never having to leave the complex to enjoy creature comforts like a private cinema, a $30 million swimming pool and sauna complex, and lighting that shifts in brightness and color as the time of day changes.

The flats have been designed by the Richard Rogers Partnership, the architectural firm run by Lord Rogers, and were built by property developers Nick and Christian Candy.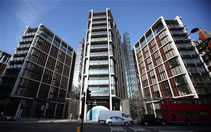 Photo: One Hyde Park features some of the UK's most expensive property. Photo: Bloomberg (enlarge photo)

The project is a joint venture between the Candys' Guernseybased vehicle, CPC Group, and Waterknights, a company owned by the Qatari prime minister, Sheikh Hamad bin Jassim bin Jabr Al Thani.

30 units are still left on the selling block, with prices ranging between $8 million for a one-bedroom flat and a penthouse valued at $220 million.

Subscribe to our free RSS News feed to receive updates.

Related world records:
Most Expensive House - Mukesh Ambani's home sets world record

Largest chocolate coin - Science World

First gold vending machine - "Gold to Go"

Most Expensive Coin - 1794 Liberty dollar

Most Expensive Stamp -The Treskilling Yellow

Most expensive carpet - 17th Century Persian carpet

Most Expensive Rough Diamond - The Cullinan Heritage

Most expensive medicine - Soliris

Most Expensive Written Manuscript - Giacamo Casanova's autobiography

Most Expensive Diamond - 'Vivid Pink'

Most expensive barbecue - BeefEater

Highest price paid for a Victoria Cross-Spink

Most expensive Christmas tree - Ginza Tanaka

Most expensive cow - Missy

Most expensive bottle of beer - Lowebrau

Most expensive Christmas bauble - Hallmark Jewellers

Most expensive apartment - Hong Kong flat

Largest Cut Paraiba Tourmaline - Ethereal Carolina

Largest Business Card - BusinessCard2

Largest Candy Store - Candylicious Dubai

Most expensive sheep - Deveronvale Perfection

Longest Serving Central Bank Governor - Mugur Isarescu

Most expensive car ever sold at auction - 1957 Ferrari 250 Testa Rossa

Longest line of coins - THINK Together

Most expensive diamond - The Wittelsbach Diamond

Most expensive car - Ferrari 250 GTO

Most expensive mobile phone number-world record set by Qtel

Most Expensive Watermelon-Densuke watermelon sets world record

Longest line of coins-world record set by Fort Scott Residents

Most expensive house-world record set by La Leopolda

Most expensive license plate-Saeed Abdul Ghafour Khouri sets world record

Most expensives Rolex watches-world record set by Atiquorum

Most expensive Buick Roadmaster-world record set by Hot Web Inc.

Largest legal document-world record set by ING Life Insurance Romania

Most expensive Dickens book-world record set by Oliver Twist

Most Expensive Champagne-world record set by Perrier-Jouet

Most expensive cell phone-world record set by GoldVish phone
Most expensive 35 millimeter camera-world record set by Leica

Most expensive Australian banknote-world record set by The Rare Coin Company

Most expensive sari-world record set by Chennai Silks

Largest single deal for buses-world record set by RTA Dubai

Fastest deal-world record set by Donald Trump and Ricardo Bellino

Largest amount won on an on-line scratch card

Most expensive Koran-world record set by oldest copy

Most expensive diamond-world record set by Sotheby

Friday, January 21, 2011