Most expensive 35 millimeter camera-world record set by Leica

[Jan 19]VIENNA, Austria--The most expensive 35 millimeter camera and the second most expensive camera ever auctioned is a Leica no.107 sold for $492,500 at the 12th WestLicht Photographica Auction.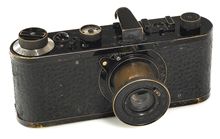 Photo: This 0-series Leica no. 107 sold for $492,500, setting a world auction record for a Leica and for a 35 millimeter camera.
(click to enlarge photo)
By accepting the bid of a private European collector, auctioneer Peter Coeln turned a slender black camera into the most expensive 35 millimeter camera .

Only 21 of these cameras were produced to test the market in 1923, two years before the commercial introduction of the Leica A.

The auctioned camera is the seventh camera of the Leica 0-series. Factory records indicate its delivery to New York for patenting. This means that this camera is not only one of the major rarities existing, it is also the first Leica to be exported.

The existing world record for a camera was also established by a WestLicht Photographica Auction — a Daguerreotype by the Paris manufacturer Susse Frères from 1839, was sold for $850,000 this past May.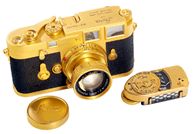 In other highlights among the Leica lots, an M3 gold no. 834000 (photo) realized $75,600 and an M3 in black paint fetched $33,400.

(enlarge photo)

The auction also saw two Leica lenses achieving remarkably high results — a Summicron 2/5 centimeter Prototype and a Noctilux 1.2/50 millimeter sold for $28,100 each. Generally speaking, the prices for Leicas and accessories were very solid. Nearly 100 percent of the Leitz articles were sold and very often the estimates were considerably exceeded.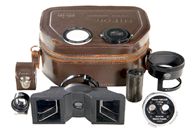 Some Nikon cameras also posted notable prices. A Stereo-Nikkor outfit (see photo) brought $57,100 and a Nikon F High Speed made $28,100.

(enlarge photo)

Extremely high prices were also registered for a large selection of stereo lots that were offered. A Hirst and Wood "The Natural Stereoscope" went out at $29,000, and an extremely rare Stereo Sigriste camera was sold for $25,500. Two previously unknown stereo viewers were also able to achieve record prices. The "Autosynoptomètre" viewer by Giroux was auctioned for $13,200, while the "Isostereoscopio" by Carlo Ponti brought $11,400.

All prices quoted have been converted from euros to US dollars and include auction charges.

The next WestLicht Photographica Auction will take place in May.
For information, http://www.westlicht-auction.com
[ Submit a world record ] [ World Record Certificate]
[ Book of World Records ] [ World Records Store ] [ Club ]



Fastest Jump Shooter in Billiards-Rocky Lane


Largest miniature railroad-Miniatur Wunderland


Fastest race around the 'World'-Rohan Veal

Most 10 scores at Olympics-Nadia Comaneci

Fastest board breaking-record set by Mitch Ellis