Most expensive Buick Roadmaster-world record set by Hot Web Inc.

[April 22] BOISE, Idaho,USA--Hot Web, Inc. (Pink Sheets:HWBI) today announced the completed world record sale of a 1948 Buick Roadmaster convertible "custom," named "Lowla" to an undisclosed buyer based in the United Arab Emirates capital city of Abu Dhabi.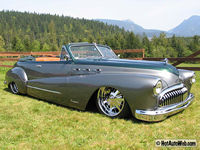 The $300,000 paid for the one-of-a-kind automobile built by Startup, Washington-based Divers Street Rods, is believed to be the highest amount ever paid for the particular make and model.
(enlarge photo)
A world renowned builder of custom automobiles, Diver's Street Rods currently has two additional automobiles being listed by HotAutoWeb, a 1940 Pontiac named "1-Wicked-1" and a 1937 Ford Minotti.
George Stevens, Chairman of Hot Web, Inc, commented, "Naturally we are pleased with the fact that we could represent the seller of such a world class automobile and secure the seller a record setting purchase price.
We continue to attract many high dollar value and award winning cars as reflection of our reputation in the automotive community and interaction with high end automotive owners. We have had several contacts from other participating award winning or "contender" vehicles wanting us to sell their cars."

He continued, "We continue to see interest in "big ticket" hot rods, American Muscle Cars and Classic Cars from international clients due in large part to a weak U.S. Dollar relative to other world currencies and a love for classic American cars on an international level."

About Hot Web, Inc.
Hot Web, Inc. is engaged in the business of consigning "big ticket" transportation related items through its diversified presences, both online and offline. The Company's mission is to "change the way the world buys and/or bids online" by harnessing the power of the Internet and coupling it with human interaction and expertise to create a safe, productive, comfortable and 'Fraud Free' way to conduct online/offline commerce. The company utilizes both its internal certified regional representative base in addition to online third-party marketing tools like eBay Motors and others to attract and market vehicle listings