Friday, November 27, 2009

Most expensive barbecue - world record set by BeefEater

CHESTER HILL, Australia -- A barbecue gold plated all over, made by Beefeater especially for the 'World's Finest' exhibition, has a value of 15000 U.S. dollars-setting the world record for the Most expensive barbecue.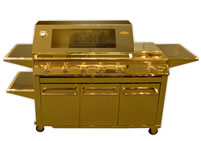 Photo:All parts of the grill except for the cooking surfaces have been individually plated in 24 carat gold and assembled by hand. (enlarge photo)

The Most expensive barbecue features a 6 burner BBQ and wok burner, roasting hood with viewing window and warming rack, high output burners, quartz start ignition, vaporizer grid and reflector system.

Proving Gold Grills aren't just for rappers, BeefEater, Australia's leading barbecue manufacturer, has tricked out one of its Signature Series 6 Burner SL4000s to create a uniquely lavish gold plated barbecue truly fit for a king.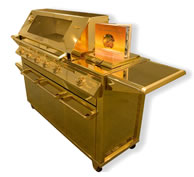 "BeefEater has created the ultimate backyard status symbol for those who want to make a statement with their barbecue and have the money to burn," says Peter Woodland, Managing Director of BeefEater.
"It's for the man who has everything and wants more."

Photo: the ultimate in backyard bling – the world's first fully operational gold barbecue. (enlarge photo)

The BBQ itself has all the gadgets and gizmos you could wish for, plus a few flashy extras:
• Quartz start ignition technology system
• Vaporiser grid
• Six high output burners
• A wok burner
• A roasting hood with viewing window
• Warming rack and reflector system

Alan Chater, Beefeater European Sales Manager, said: "Part of the fun of having a barbecue is putting on a show, and that's what we do best".

"We wanted to go to the next step - it's a great style statement and shows just what can be done. "It was purely made to see what we could do in terms of opulence, price and features. "It clearly does look spectacular.
Should it ever come to market in the future it will cost £100,000 because even the nuts, bolts and screws are gold-plated."
On the Net: www.beefeaterbbq.com

Related world records:
Highest price paid for a Victoria Cross-Spink sets world record

Most expensive Christmas tree-world record set by Ginza Tanaka

Most expensive cow-world record set by Missy

Most expensive bottle of beer-world record set by Lowebrau

Most expensive Christmas bauble-Hallmark Jewellers sets world record

Most expensive apartment-Hong Kong flat sets world record

Largest Cut Paraiba Tourmaline- Ethereal Carolina sets world record

Friday, November 27, 2009