Longest line of coins-world record set by THINK Together

FONTANA, CA, USA -- Close to 2,000 students and 200 chaperones worked nearly six and a half hours to lay down a 65 mile chain of pennies on the racetrack at Auto Club Speedway in Fontana, CA, setting a new World Record for the longest line of coins.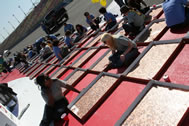 Photo: Southern California students who participate in THINK Together after-school programs set a new World Record using more than 5,491,200 pennies to fill more than 3,432 cardboard trays, each one connected by a penny in the corner, to create a chain of pennies more than 65 miles long on the racetrack at Auto Club Speedway in Fontana, CA. (PRNewsFoto/THINK Together) (enlarge photo)

The students outdid themselves because in all, they ended up collecting more than 15.8 million pennies or $158,722.63 worth of change. That is nearly 188 miles of pennies.

Youth in Fort Scott, Kansas set the previous record for the Longest line of coins with a 40 mile penny chain last summer.

All of the change collected, including nearly 5.5 million pennies used to accomplish the World Record feat, will go directly into funding activities for the free after-school program which targets at-risk and low-income students.

Validating the students' accomplishment were official judges: Dave Allen, vice president of Auto Club Speedway; and Marc Cipres, Security Manager, UPS.
Serving as additional honorary judges for the event were; Matt Mullins, star of The CW's "Kamen Rider: Dragon Knight;" Gerson Mayen, Chivas USA soccer player; Leona Aronoff-Sadacca, THINK Together board member; and Michelle Babin, an alum of America's Next Top Model(TM) and a THINK Together program leader.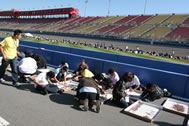 Photo: Southern California students in THINK Together after-school programs collected more than 15.8 million pennies during February and March and then in the course of six and half hours 2,000 of those students used nearly 5.5 million of the coins to lay down a chain of pennies 65 miles long on the racetrack at Auto Club Speedway in Fontana, CA setting a new World Record for the longest chain of pennies. (PRNewsFoto/THINK Together) (enlarge photo)

In early February, more than 35,000 students in THINK Together's after-school programs throughout Los Angeles, Orange, Riverside and San Bernardino County launched a penny drive, "Miles of Change," to commemorate the Bicentennial of Abraham Lincoln's birth; and in recognition of the Lincoln Penny's Centennial, the students set out to collect at least 8.5 million pennies, or 100 miles of pennies.

"President Obama and his wife Michelle remind us that people, each doing their individual part, have the collective power to create miles of change. And it's in that spirit that we designed the 'Miles of Change' community engagement project so our students could experience that first-hand," said Randy Barth, founder and CEO of THINK Together.

Larry Tenney, THINK Together's chief public affairs officer and the director of the "Miles of Change" project said, "Among other things, we hoped this broad-scale, unprecedented community engagement project would bring much attention to THINK Together and our program throughout the region and it appears we've done just that. "

'Miles of Change' was successful because our students and their families, our staff, our fans and our community partners including Auto Club Speedway, Bank of America, AMR, Brinks, Burrtec Disposal, Chivas USA, Univision, UPS, Yakult and others came together with a common goal, each doing their individual part."

"Close to 40,000 people were involved in creating 'Miles of Change.' Their efforts have demonstrated to our students what's possible," added Tenney.

THINK Together, a non-profit, is the largest provider of academically-focused after-school programs in California serving more than 35,000 low-income and at-risk students at 200+ sites across a four-county footprint of Southern California (Los Angeles, Orange, Riverside and San Bernardino Counties).

THINK is an acronym that stands for Teaching, Helping, Inspiring & Nurturing Kids.


Related world records:
Most expensive diamond-world record set by The Wittelsbach Diamond

Most expensive car-world record set by Ferrari 250 GTO

Most expensive mobile phone number-world record set by Qtel

Most Expensive Watermelon-Densuke watermelon sets world record

Most expensive house-world record set by La Leopolda

Most expensive license plate-Saeed Abdul Ghafour Khouri sets world record

Most expensives Rolex watches-world record set by Atiquorum

Most expensive Buick Roadmaster-world record set by Hot Web Inc.

Largest legal document-world record set by ING Life Insurance Romania

Most expensive Dickens book-world record set by Oliver Twist

Most Expensive Champagne-world record set by Perrier-Jouet

Most expensive cell phone-world record set by GoldVish phone
Most expensive 35 millimeter camera-world record set by Leica

Thursday, April 2, 2009