Most Expensive Champagne-world record set by Perrier-Jouet

[March 30]EPERNAY,France-- The limited edition 12-bottle box sets of Perrier-Jouet champagne, priced at 50,000 euros ($80,000) or 4,166 euros (6,485 dollars) for a personalised bottle- set the world record for the Most Expensive Champagne.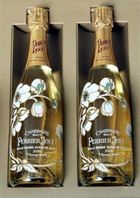 Sales will be limited to a "community of super-rich" consumers in the United States, Britain, Japan, China, Russia, Switzerland and France.

(enlarge photo)

"We are going to sell these box-sets to 100 people around the world who will have a chance to customise their own champagne, the ultimate luxury," said Perrier Olivier Cavil, head of communications at Perrier-Jouet.

"Each buyer will come to Epernay (in eastern France) for a one-on-one meeting with our cellar master Herve Deschamps, and will personally add a 'liqueur' to personalise the bottles," he said.

A combination of sugar and wines from different years, the liqueur will put the finishing touch on bottles of Perrier-Jouet's 2000 Belle Epoque champagne.

Buyers will also be offered a storage nest in Perrier-Jouet's cellars, to hold the bottles for another eight months.

The previous price record was held by a limited edition of Dom Perignon champagne, which went on sale in 2005 for 12,000 euros per three-litre bottle.

Pernod Ricard, which owns the champagne brands Mumm and Perrier-Jouet, is the fourth player in a booming global market. Champagne producers exported 150 million bottles last year, a 7.3-percent jump from 2006, in addition to 188 million guzzled in France, according to industry figures.