Most expensive cell phone-world record set by GoldVish phone

[March 30] GENEVE, Switzerland--GoldVish phone, a mobile phone made out of 18-carat white gold and features 1,800 diamonds totaling 120 carats, priced at 1 million euros, or about $1.3 million, set the world record for the Most Expensive cell phone.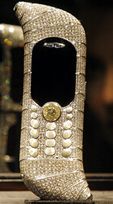 A Russian businessman bought Le Million for his wife last September at a luxury goods fair in Cannes, France.

(enlarge photo)

Geneva-based GoldVish has plenty of expensive phones in its lineup, including models with gold plating and diamond-studded cases.

Americans who don't want to actually get on a jet to buy a jet-setting phone can still have their needs sated.

Vertu, a subsidiary of Nokia (nyse: NOK ), the world's largest cellphone manufacturer, is the most established of the ultra-luxury handset firms.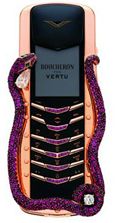 Unlike some niche manufacturers that cater mostly to European and Asian markets, it's fairly easy to try out and buy Vertu phones in the U.S. In New York and Chicago, for example, they're on display at Nokia retail stores. And they're distributed across the U.S. to high-end department stores like Barneys and watch shops like Tourneau.

Last year, Vertu teamed up with French jeweler Boucheron to make the second-most-expensive phone on our list, a limited-edition series of eight $310,000 handsets sporting red, jewel-encrusted snakes.

The Signature Cobra includes two diamonds, two emerald eyes and 439 rubies snaking around an 18-carat rose gold case.