Thursday, June 10, 2010

First gold vending machine - "Gold to Go" sets world record
ABU DHABI, United Arab Emirates -- Thomas Geissler of Germany, chief executive of Ex Oriente Lux, has created the "Gold to Go" machine, a machine that dispenses gold in exchange for cash at the Emirates Palace hotel , setting the world record for the First gold vending machine.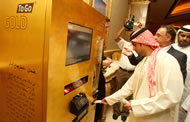 (enlarge photo)

The First gold vending machine in The World spits out a range of 24-karat gold trinkets, from bars up to one ounce in weight and gold coins in honour of the gold-producing countries named the Canadian Maple Leaf, the Australian Kangaroo and the South African krugerrand.

For security, the ATM underneath its 24-karat exterior is built of high-impact steel.

The Emirates Palace, in the capital of the United Arab Emirates, offers rooms from $289.23 U.S. per night up to $10,000 per night for the three-bedroom top-of-the-line suite.

The World's First gold vending machine, which uses a computer system to adjust its prices in accordance with international markets every 10 minutes, was instantly popular at the hotel.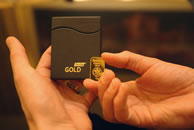 (enlarge photo)

"On the first night we had a lot of demand," Geissler said. "One customer even bought one item of every product we have."

He said the UAE was chosen as the first location to host a "Gold to Go" machine because of the high demand for the precious metal in the region.

Subscribe to our RSS News feed to receive updates. Related world records:
Most Expensive Coin - 1794 Liberty dollar sets world record

Most Expensive Rough Diamond - The Cullinan Heritage

Most expensive diamond - The Wittelsbach Diamond

Most Expensive Stamp - world record set by The Treskilling Yellow

Most expensive carpet - world record set by a 17th Century Persian carpet

Most Expensive Written Manuscript - Giacamo Casanova's autobiography sets world record

Most expensive barbecue - world record set by BeefEater

Most expensive bottle of beer-world record set by Lowebrau

Most expensive Christmas bauble-Hallmark Jewellers sets world record

Most expensive apartment-Hong Kong flat sets world record

Most expensive car ever sold at auction-1957 Ferrari 250 Testa Rossa sets world record

Most expensive car-world record set by Ferrari 250 GTO

Most expensives Rolex watches-world record set by Atiquorum

Most expensive Buick Roadmaster-world record set by Hot Web Inc.

Most expensive Dickens book-world record set by Oliver Twist

Most Expensive Champagne-world record set by Perrier-Jouet

Most expensive cell phone-world record set by GoldVish phone

Most expensive 35 millimeter camera-world record set by Leica

Most expensive Australian banknote-world record set by The Rare Coin Company

Thursday, June 10, 2010