Monday, January 3, 2011
Youngest World Map Memorizer: 6-Year-Old Mohamed Ashik set world record
MADURAI, Tamil Nadu, India--6-year-old Mohamed Ashik of Noyes Matriculation Hr Sec School, Madurai, memorized and pointed out the name of 195 countries on a plain World Map (91.5 x 58 cms) within 3 minutes , setting the world record for the Youngest World Map Memorizer.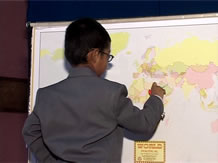 (enlarge photo)

He also Pointed out 50 countries, when the Judge, questioned him, one by one, in a zip-zap manner.

He answered 50 neighbouing countries when the Judge was questioning, one by one, without seeing the plain world map, in a public gathering.

Mohamed Ashik was congratulated by former President A P J Abdul Kalam for identifying countries on a plain world map.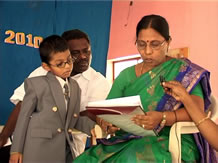 Ashi met the former President at the circuit house recently.

(enlarge photo)

The world record was sponsored by:
- Rev. A. Christopher, Bishop, CSI Church;
- Er. Solai M.Raja, President, Tamilnadu Kabadai Association;
- P.M. Mannan;
- DY. Mayer Corporation of Madurai; - Mrs. Dhanavathi Rajkumar.

The Guinness world record for the most random objects memorized was achieved by Jayasimha Ravirala (India) who recalled 200 random items in the order that they were read to him at the Sri Thyagaraya Gana Sabha, Hyderabad, India.

Guinness World Records also recognized the record for the most birth dates memorised: 20 which was achieved by Jayasimha Ravirala (India) at KRS auditorium, Vashakhapatnam, India.

Subscribe to our free RSS News feed to receive updates.

Related world records:
Youngest to state all the U.S capitals - Shruthi Vairavan

Youngest live portrait artist - Harris Imtiyaz Khan

Youngest to state all the U.S capitals - Shruthi Vairavan

Youngest Opera Singer - Jackie Evancho

Youngest FisherGirl - Ella Windschitl

Youngest to climb Mount Everest - Jordan Romero

Youngest to circumnavigate the globe - Jessica Watson

Youngest Golfer to Score a Hole-in-One - Eleanor Gamble

Youngest person to have built an electric truck - Deitrich Ludwig

Youngest Vacuum Cleaners Specialist - Kyle Krichbaum

Youngest drum corps queen - Julia Lira

Youngest to climb world's highest peaks - Johnny Collinson

Youngest successful painter-Kieron Williamson

Youngest Skateboarder - Evan Wasser

Youngest wing-walker - Tiger Brewer

Youngest solo pilot to fly five different aircrafts - Evan Graham

Youngest String Orchestra to Play at Carnegie Hall - South Pasadena Children's Orchestra

Youngest Billiard Player - Keith O'Dell Jr

Youngest male radio presenter - Jack Hill

Youngest college lecturer - Aman Rehman

Youngest passenger on wheightless flight - Jules Nader

Youngest Successful Singer - Cleopatra Stratan

Youngest to solo airplane and helicopters on same day - Errick Smith

Youngest DJ - Jack Hill

Youngest Person Performing Carnatic Music on the Violin - Sandeep N Bharadwaj

Most expensive Baby photos: Angelina Jolie's twins

Youngest swimmer Maharnth

Youngest college professor - Alia Sabur

Youngest pilot to set world flight records - Jonathan Strickland
Youngest leader of the Formula One world championship

Youngest lead climbing world champion - Johanna Ernst

Youngest person to win a Japanese Golf male tournament

Youngest relay team to swim the English Channel - English swimmers

Youngest Skydiver - Valentina Mihanciu

Strongest Girl - Jacqueline Wickens

Strongest Boy - Nicholas Ortiz

Youngest pilot completes round-the-world flight

Youngest to circumnavigate the globe - Jessica Watson

Youngest rower to cross an ocean solo - Katie Spotz

Youngest to sail solo around world - Zac Sunderland

Youngest passenger to fly in microgravity - Jules Nader

Youngest to solo airplane and helicopters on same day - Errick Smith

Monday, January 3, 2011