Friday, February 11, 2011
Most Expensive Nail Polish: Gold Rush Couture by Models Own sets world record
LONDON, UK -- Models Own launched its Gold Rushnail polish with an exquisite lid which has been carefully hand-crafted from yellow gold and has a total of 1,118 diamonds inlaid,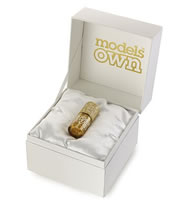 costing $132 800 (£83,000) - setting the new world record for the Most expensive nail polish.

Photo: The World's Most Expensive Nail Polish.
(enlarge photo)

When painted on it looks like gold leaf – it glistens, glimmers and actually sparkles like tiny diamonds (yet is absolutely smooth to the touch).

It costs a whopping £83,000 – an ideal gift for the woman who has everything!

The Guinness world record for the longest fingernails (female) ever belonged to Lee Redmond (USA), with a total length of 8.65 m (28 ft 4.5 in).

Guinness World Records also recognized the longest fingernails on a pair of male hands, which belonged to Melvin Boothe (USA) whose nails had a combined length of 9.85 m (32 ft 3.8 in), when measured in Troy, Michigan, USA.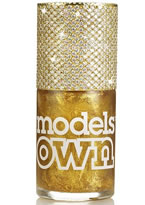 If your budget doesn't quite stretch that far – fear not! They are also releasing a ready to wear version (£5) online and in Boots.

(enlarge photo)

Gold Rush couture is available to view and order from today at Frost of London (108 New Bond Street, London, W1). Gold Rush ready to wear will be available at www.modelsownit.com from mid December and at Boots from 23rd February 2011.

Subscribe to our free RSS News feed to receive updates.

Related world records:
Most Beautiful Woman: Miss USA Alexandria Mills

Fastest relay race in stiletto heels: Australian women

Tallest Bikini Model: Amazon Eve

Longest Catwalk: The Copenhagen Fashion Week

Longest Catwalk: The Copenhagen Fashion Week

Most Expensive Diamond Tattoo: jeweler Yair Shimansky

Most lipstick applications: Estée Lauder

Most Tattooed Woman: Julia Gnuse

Most T-Shirts Worn at One Time: Kruno Budiselic

Wearing most underpants at once: Gary Craig

Highest Launch of a Jewelry Collection: H'Art Design Ltd.

Smallest Tattoo of a painting: Wingnut

Most tattoos given in 24h: Robbie The Coon

Most tattoos done in 24 hours: Kat Von D

Friday, February 11, 2011