Wednesday, November 10, 2010

Most Beautiful Woman- Miss USA Alexandria Mills sets world record
SANYA, Hainan Island, China--Alexandria Mills, 18, from Louisville, Kentucky, won the international pageant held in Sanya, China - setting the new world record for the Most Beautiful Woman.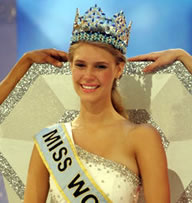 Photo: Alexandria Mills of the U.S., The World's Most Beautiful Woman. Photo: ChinaFotoPress (enlarge photo)

"It's a cliche but this really is a dream come true," she said, crying. "I can't believe it's happening ot me. My time has come. I'm loving it!"

Mills beat out 115 other young women in the 60th annual competition. The first runner-up was from Botswana, the second runner-up was from Venezuela.

According to a biography on the Miss World website, Mills, a recent high school graduate, has aspirations of becoming a teacher.


(enlarge photo)

"I've never met a stranger and enjoy meeting new people," she says in the bio.

For the final, she was wearing a shimmering ivory-colored dress slit up the leg.

120 contestants from across the globe participated in the pageant. The committee consisted of many former holders of the prize.

The Guinness World record for the Smallest Waist on a Living Personwas set by Cathie Jung from Old Mystic, Connecticut, USA, with a waist measuring 15in (38.1 cm).

Guinness World Records also recognized the Most Pierced Woman: Elaine Davidson, of Edinburgh, Scotland, who had a record-breaking total of 720 piercings.

Subscribe to our free RSS News feed to receive updates.


Related world records:
Largest Bikini Parade - Nashua Bikini Parade sets world record

Tallest Bikini Model-world record set by Amazon Eve

Longest Catwalk - The Copenhagen Fashion Week

Most lipstick applications - Estée Lauder

Most Tattooed Woman - Julia Gnuse

Wednesday, November 10, 2010