Monday, September 20, 2010

Longest California Roll: University of Massachusetts sets world record

AMHERST, Mass., USA -- More than 300 volunteers from the University of Massachusetts-Amherst ((UMass) assembled under the discerning eye of Food Network chef Jet Tila 422-feet of California roll - setting the new world record for the Longest California Roll.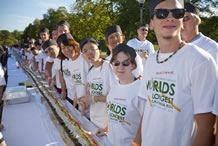 Photo: UMass students eagerly wait until it's their turn to roll the gigantic sushi roll. Because of its length the 422 foot California Roll had to be rolled in sections. All photos - courtesy of the University of Massachusetts Amherst / Danica Perry (enlarge photo)

The World's Longest California Roll was created from 650 sheets of nori (seaweed), 200 pounds of sushi rice, 200 pounds of crab, 100 pounds of avocado, 100 pounds of cucumber, two pounds of sesame seeds, five gallons of soy sauce and six pounds of wasabi.

The sushi-makers included students, staff and volunteer chefs, all wearing T-shirts created especially for the occasion.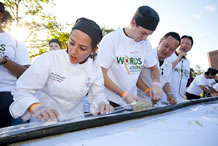 (enlarge photo)

The event featured the Food Network's Jet Tila, who kicked off the construction of the sushi roll alongside Chancellor Robert C. Holub, Wally the Green Monster, the official mascot of the Boston Red Sox and UMass' own mascot, Sam the Minuteman.

The previous Guinness World Record for the Longest California Roll was formerly held by the University of California-Berkeley after they created a 330-foot California roll last November.

This record is allegedly just the beginning of UMass taking records from Cal-Berkeley as far as Chancellor Robert C. Holub, a former employee at Berkeley, is concerned. "We are out to take every record from them, starting with a sushi roll," he said.

Tila told the crowd in a Zen-like pep talk beforehand, "You must believe, you must visualize, you must know you can do it."

"Seafood and local vegetables — that's the key, and this is a perfect example of what can happen when you tap into a nutritious, sustainable local food supply," said UMass Amherst auxiliary enterprises executive director and former dining hall director Ken Toong, who believes that UMass Amherst has been the rightful heir to the sushi record all along.

"Each day, more than 2,000 sushi rolls are served here," says Toong. "I would not be surprised if UMass students eat more sushi than any other school in the nation."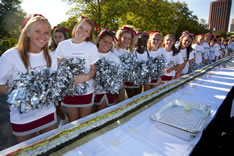 (enlarge photo)

According to Toong, most ingredients, including the surimi, cucumber and avocado, was paid for by sponsors of the event, such as Coca-Cola and the Alaskan Seafood Marketing Institute, a company that provides dining services with seafood.

He was also especially happy to be able to make the event part of the school's Green Welcome Barbecue and therefore to engage so many new students and other new members of the community.

And, oh yes, if Berkeley wants to try and take the record back: Moore says, "If they wanna double us, we'll double them. The gauntlet has been thrown down."

Subscribe to our RSS News feed to receive updates.
Related world records:
Longest barbeque marathon - world record set by Jan Scannell

Largest pot of baked beans -Alabama Butterbean Festival

Largest goat cheese - world record set by Castel di Lama

Largest serving of fried chicken - world record set by KFC

Largest Pot of Beans - Macedonian Villagers

Largest serving of fried chicken - Indiana's Canoefest

Longest french fry - John Benbenek

Largest pork burger - Humboldt

Largest Hamburger - Chef Ted Reader

Largest Chicken Fried Steak - Cowtown Diner

Largest Meatball - Glen Oaks Community College

Most Expensive Seafood Hamper - The Fish Society

Most expensive Schnitzel - 'Golden Imperial Schnitzel'

Largest 'Jerusalem mixed grill'-Israeli chefs

Largest meatball - Nonni's Italian Eatery

Largest Green Chile Cheeseburger - Peppers Cafe

Largest Simultaneous Roast Meal - the East of England Agricultural Society

Longest sausage - world record set in Vinkovci

Largest gyros (doner kebab) - Sami Eid

Biggest barbecue - Paraguay

Longest Bulz - Turia

Longest beef sosatie - Arcelor Mittal

Largest hot dog - Monterrey chefs

Biggest burger - Mallie's Sports Grill & Bar

Largest meatball - Sony Pictures Animation

Most number of dishes on display - Kraft Foods

Most expensive Burger - Burger King

Most fish dinners - Polish heritage Festival

Biggest burger - Mallie's Sports Bar

Biggest barbecue - Uruguay

Largest balmos - Alba Prefecture

Largest serving of fried chicken - Qatar Food Company

Longest California Roll - UC Berkeley students

Largest Matzah Ball - Noah's Ark Original Deli

Largest jambalaya - Jambalaya Festival

Largest Scotch Egg - Lee Streeton

Largest plate of dates - Liwa Festival

Hottest curry - Vivek Singh

Longest Corn Barbecue - Sto.Tomas

Monday, September 20, 2010