Thursday, June 9, 2011

Fastest Electric Race Car: The Formulec EF01 sets world record (HD Video)

PARIS, France -- Thanks to the power of its traction system (220kw, which equates to 300bhp), the Formulec EF01 reaches 0-100 km/h in just three seconds and is targeting a maximum speed of 250km/h- setting the new world record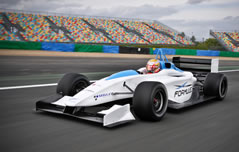 for the Fastest Electric Race Car.

Photo: Te World's Fastest Electric Race Car: The Formulec EF01. (enlarge photo)

The Guinness world record for the largest parade of electric vehicles consisted of 218 vehicles and was organised by the Bay Harbor Foundation (USA) at the Bay Harbor Vintage Car and Boat Festival in Bay Harbor, Michigan, USA.

Guinness World Records also recognized the world record for the fastest car powered by dry cell batteries: the Oxyride Racer, which achieved an average speed of 105.95 km/h (65.83 mph).

The EF01 therefore shows that speed and efficiency can coincide with a respect of the environment and sustainable development.

Few more details about the car:
• Maximum speed – 260km/h
• Race autonomy (time on track from one charge) – 20-25 minutes depending on the track length and design
• Gearbox: 2 speeds
• Time in qualifying lap – close to a Formula 3 car
• Time of recharge – between 1 and 1 ½ hours

Recently, tests have been made for the incorporation of an energy recovery system which will be fitted to all the cars entering the 2012 championship.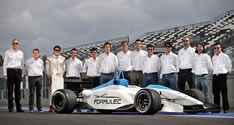 (enlarge photo)

"As the Formulec project grows and gains resonance amongst political authorities and the public, we are very happy that FCI accepted to join in", says Eric Barbaroux, president of Formulec. "FCI's technological background makes them a valuable partner to support us in pushing our car's limits. Together, we spearhead the path to a greener future in motorsport."

"The Formulec project perfectly matches our vision of what innovation should be. Just like Formulec, FCI develops technological breakthroughs that will become the reference for standard applications in the near future", says Liam Butterworth, GM & VP FCI Motorized Vehicles.
"FCI Motorized Vehicle has always pushed for the highest standards to be applied in its connec- tors, beyond our customers' requirements. We now have an opportunity to demonstrate live that our interconnect Power.S3 solutions can withstand the harshest conditions with constant performance. We are very excited to be part of the Formulec adventure!"

Key technical partners in the Formulec project are as follows:
- SEGULA Matra Technologies: Provides the general technical co-ordination for the EF01 single-seater
- MERCEDES GP PETRONAS Formula One Team has produced the prototype car
- SIEMENS supplies the two electric motors for the EF01
- SAFT and its experience in aeronautics, defence and space batteries has developed the special battery system for the EF01
- MICHELIN has developed all-new energy-saving tyres for the EF01 that can handle the power and torque loads
- ART Grand Prix is the most successful team in GP2, GP3, and Formula 3 Euroseries and is involved in developing and operating the EF01
- HEWLAND developed the unique two-speed transmission system for the car and is a leading supplier of gearboxes for motor racing
- OZ supplies the rims for the Michelin tyres - Stand 21 made the driver's race suit for the EF01
- 2D measurement systems distributed by SI GMALIS for measurements and telemetry.

Related world records:
Fastest rocket-powered model car: British students

Fastest motorcycle hearse : Rev Ray Biddiss (Video)

Fastest electric go kart acceleration: Linde E1 (HD Video)

Fastest Solar Powered Car: Sunswift IVy

Largest Speeding Fine: Swedish driver

Fastest street car: The Maxximus G-Force

Fastest train: world record set by China

Fastest around the world flight: Caroll Ann Garratt and Carol Foy

Fastest road-legal diesel car: AC Schnitzer

Fastest street-legal SUV: Brabus GLK V12

Fastest steam-powered car: Inspiration

Fastest street legal car: G-Force

Fastest Amphibious Channel Crossing: LMT Maritime

Fastest limousine: Ferrari

Fastest series-production high-speed train

Fastest standard road tire: Continental

Fastest Bio-fuel Powered Car: E85 Viper

Fastest diesel motorcycle: The Diesel Dozen

Fastest electric vehicle: Altairnano

Fastest heavy truck: Volvo NH

Fastest jet-powered street luge: 'Tea Tray

Fastest production car: Ultimate Aero car

Fastest road-legal BMW: G-Power

Fastest single-turbine engine plane

Fastest Amphibious Vehicle: Sealegs

Fastest School Bus: Indy Boys Inc

Fastest Civil Aircraft: Gulfstream G650

Thursday, June 9, 2011