Fastest street legal car-world record set by G-Force

Rockingham Dragway, NC, USA -- The G-Force started as a vision of an American V-8 powered mid-engine super car and broke three world records for speed-setting the world record for the Fastest street legal car.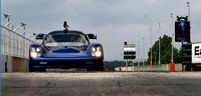 Photo: The G-Force car was to be the fastest American built Supercar with a 1600++Hp all aluminum American V-8, 434 cubic inch, twin turbo charged, fuel injected small block engine. (enlarge photo)

The interior of the vehicle was custom created by an aircraft interior specialist with the characteristics coming straight out of a fighter jet.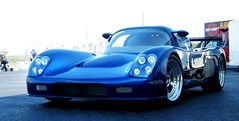 The car has an all aluminum paddle shift transmission with a quick change gear set.
(enlarge photo)

The braking components to the vehicle are a 14 inch cross-drilled rotars with 6 piston calipers on all four corners to create a package that will achieve world record standards.

The sleek dash and interior roll into the comforts of a luxury car including: heating and air conditioning, AM/FM stereo with CD, navigation system with MP3 and DVD, all digital instrumentation and a push buttom start.

The world record driver was Marlon Kirby, owner of Maxximus Technologies, Master Tech was Mark Cloud, Machinist was Matt Thompson, Engine tuner and a "huge help Larry Strouth Sr. and Larry Strouth Jr. of HP Works and for moral support, my father, David Kirby." D. Bruce McMahan, the owner and financee of the G-Force car, was also the key part of making this come about.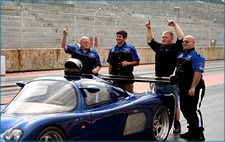 Marlon Kirby, owner of Maxximus Technologies: "Obtaining the world record was having my dreams and visions fulfilled.
This task was a lifetime vision and three years of blood, sweat and tears. (enlarge photo)

My philosophy about being in second place is that that person is the first loser. This belief kept me pushing forward over multiple hurdles that were thrown my way. The support of my wife and family along with my drive to achieve the fastest Super-car on the Globe."

The Fastest street legal car-the G-Force:
-0 to 60 in 2.134 seconds with the old record being 2.6 seconds.

Marlon Kirby, owner of Maxximus Technologies: "Thanks to all that helped throughout this exceptional adventure from the bottom of my heart."

Tuesday, November 25, 2008

In the News:
Gluteus Maxximus: A study in power-to-weight ratios
Los Angeles Times, CA- February 12, 2009

World's Fastest Street Legal Supercar Unveiled
Al-Bawaba, Jordan-February 12, 2009

Big Boys Toys to be held in UAE
AME Info, United Arab Emirates-February 12, 2009

Maxximus Acceleration: Zero to 60 in 2.1 Seconds
Wired News, US - February 11, 2009