Fastest limousine-world record set by a stretch Ferrari

[Sep 7]MANCHESTER ,UK--The world's fastest limousine is now available to rent - a stretch Ferrari with a top speed of nearly 170mph.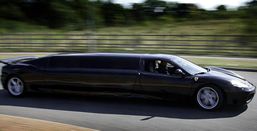 The 400bhp beast is made from a Ferrari 360 Modena which was chopped in half and stretched by 9.5ft with a section of hand-built carbon fibre.
It is now 20ft long and seats eight people - but has lost little of its performance because it weighs just 160kg more than the original 1390kg car.

It was created by limo boss Dan Cawley and former McLaren carbon fibre expert Chris Wright - who will now rent it out for £700 an hour.

Dan, 37, who runs Style Limousines in Cheadle, Manchester, said his creation was a "supercar for the masses". He said: "Everyone always dreams about riding in a real Ferrari but very few people ever get the chance - but now they can, and bring friends along too.

Dan already owns Europe's longest stretch Hummer - the ten wheeled 'Terminator' - and a stretched Range Rover Sport and Porsche Cayenne after seven years in the trade. He plans to run the Ferrari for a year as a show car before selling it to the proposed Ferrari museum in Dubai.

The 3.6 litre V8 engine launches the car from 0 to 60mph in less than six seconds and has a top speed of around 166mph - just 17mph less than the standard 183mph car. Passengers climb in through hydraulically powered 9ft long gull-wing doors and sit in carbon fibre racing seats equipped with full five-point harnesses.

The car is set to claim two World Records as the fastest limousine and the longest Ferrari.

Like the original car, the V8 engine is still visible through the rear glass window. Extra crash protection bars and carbon roll over hoops have been installed for safety.

The brakes and gear box are all standard but the suspension has been uprated to cope with the added weight and to automatically raise the body while tackling speed bumps.

Between each pair of seats is a 10-inch flat screen monitor which relays images from cameras mounted on the outside of the vehicle.

A six speaker surround sound system and slimline DVD have also been built in. Surprisingly, the car returns an average of 15mpg on the motorway and costs only £1,800 a year to comprehensively insure for passenger carrying duties.

The total cost of the project is thought to be around £200,000.

It will make its debut at the Limousine & Chauffeur Show 2007 at the Birmingham NEC from the 16th to 18th of September.