Wednesday, August 1, 2012

Most Olympic Medals: Michael Phelps sets world record (PICS & VIDEO)

LONDON, UK -- Michael Phelps, the greatest swimmer of all time became the most decorated Olympian of all time when he won his 19th Olympic medal at the London Games, setting the new world record for the Most Olympic Medals, according to the World Record Academy: www.worldrecordacademy.com/.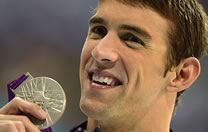 Photo: Michael Phelps holds his silver medal for the 200m butterfly on the night that this and a further gold took him to a record 19 Olympic medals. Michael Phelps is now the most decorated Olympian ever. Photo: Christophe Simon/AFP (enlarge photo)

The Guinness world record for the Most individual Olympic medals was set by Larisa Latynina (USSR/Ukraine), who won a record 14 medals in individual events at the Olympic Games between 1956 and 1964.

Guinness World Records also recognized the world record for the most gold medals won by a woman: nine, by Larisa Latynina (USSR/Ukraine) who won four in 1956, three in 1960 and two in 1964 for gymnastics.

Phelps won his first gold medal in London in the 4x200 metres freestyle less than an hour after a shock defeat in the 200 butterfly, an event he has dominated for over a decade.

His team mates threw their arms around him and the crowd at London's Aquatic Centre rose to their feet to witness the coronation of the Olympic king.

The world record Phelps broke was held by Soviet gymnast Larisa Latynina, who won the last of her 18 Olympic medal at Tokyo in 1964.

Until Phelps surfaced, no-one had come close to breaking her record in almost half a century but now the torch has been passed to the 27-year-old from Baltimore.


(enlarge photo)

"I would have liked a better outcome in the 200 fly. Obviously it was my last one and I would have liked to win but...it wasn't a terrible time," Phelps said.

"I thank those guys for helping me get to this moment ... I just wanted to hold on. I thank them for allowing me this moment."

Related world records:
First perfect 10 at the Olympics: Nadia Comaneci set world record (Video)

Oldest Olympic women's marathon winner-world record set by Constantina Dita

Oldest person to kitesurf across the English Channel: Richard Branson sets world record

Largest Stand Up Paddleboard Lesson: Standup for the Cure sets world record (PICS & Video)

Biggest ocean wave surfed in a kayak: Tao Berman sets world record (Video)

Longest Kitesurfing Distance in 24 Hours: Rimas Kinka sets world record

Largest wave ever surfed: Garrett McNamara sets world record (Video)

Largest aqua aerobic display: Bosnians break Guinness world record

Largest gathering of bodyboarders: Portugal (Video)

Longest nonstop paddleboard voyage: Cynthia Aguilar (Video)

Longest solo unassisted ocean swim: Penny Palfrey (HD Video)

Blind water-skier Steve Thiele sets new blindfolded distance record

Longest surf ride: Gary Saavedra (Video)

Longest surf session: Bill Laity

Longest Apnea in a Cave: Carlos Coste

Longest Open Saltwater Scuba Dive: Ivan Zhelezarov

Completing most watersports in a day: Guy Cribb

Deepest free immersion dive: William Trubridge

Most Water Skiers Behind a Boat: Horsehead Waterski Club

Longest Open Saltwater Scuba Dive: Will Goodman

Longest swim: Martin Strel

Most people in a cold water swim: Long Beach Polar Bears

Longest swim in a lagoon: Mauro Giaconia

Youngest relay team to swim the English Channel:English swimmers

Most miles paddled in 24 hours on Stand Up Paddle Board: Justin DeBree

Longest Stand Up Paddle board journey: Justin DeBree

Fastest row across the Atlatinc: La Mondiale

Unassisted free diving world record: William Trubridge

Freediving World Record

Longest paddleboard journey set three world records

Wednesday, August 1, 2012 7:28 AM