Tuesday, June 9, 2009


Oldest Olympic women's marathon winner-world record set by Constantina Dita

BEIJING, China -- During the Beijing Olympic Games, the 38-year-old romanian athlete Constantina Dita Tomescu won the marathon in 2 hours 26 minutes 44 seconds, setting the world record for the Oldest Olympic women's marathon winner.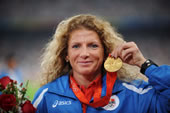 Photo: Constantina Dita Tomescu of Romania holds her Olympic Gold medal / photo courtesy ProSport
(enlarge photo)

"The experience of age helped me," she told reporters. "I have raced a lot before, I know a lot about running."

Michael Phillips wrote for 'The Guardian': "She made her way into the Bird's Nest - where there was a 40,000 crowd - and savoured every second of her lap of honour. She slowed almost to a standstill as the line approached - and then broke the tape in total delight. A great day for her."

Previously the oldest man to win an Olympic marathon was age 37 and the oldest woman was age 30.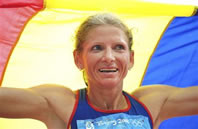 Photo: Constantina Dita Tomescu of Romania holds her national flag after winning the women's marathon of the athletics competition during the Beijing 2008 Olympic Games in the National Stadium August 17, 2008. REUTERS/Dylan Martinez
(enlarge photo)

Constantina Dita:"I am very happy I got the gold medal, it had been my dream for years. To tell you the truth, I wasnít expecting to win. I thought I could reap a medal, but to win? Never. The world elite was all there, very strong girls, and I had never expected to defeat them and win the gold medal."

It was an unbelievable race and an unforgettable moment for Romanian athletics and Constantina herself.

Reuters agency wrote:"Marathon runners, like fine wines, usually improve with age and Romania's new Olympic champion Constantina (Dita) Tomescu proved the point."

Constantina Dita says: "I was born and grew up in the village of Turburea. As a child I spent much of my time running after the cattle and pigs we kept on the farm in the surrounding hills, but of course that was not for training, (she laughs) that came later."
"I played handball in my class in High School, so I didnít get to a professional level. My dream was always to run. In my last year of school my sports teacher put me in a race with the guys in my class. I beat them all."

Constantina Dita finished third in the 2005 world championships but she dropped out of the 2003 world championship marathon and at the 2004 Olympics she faded to finish 20th after a strong start.

A a typical training week:
Mon Ė AM 15K, PM 10K
Tues - AM 15 to 20K running in the mountains, PM 10K
Wed - AM interval training, PM 8K
Thur - AM long run (35-40K), PM rest
Fri - AM 15-20K running in the mountains, PM 10K
Sat - AM intervals, PM 8K
Sun - AM long run, PM rest

The previous world record for the Oldest Olympic women's marathon winner had been the legendary Carlos Lopes of Portugal who won the men's marathon in the 1984 Los Angeles Olympics at the age of 37.
Rosa Mota, also from Portugal, previously was the oldest women's winner at the age of 30 in the 1988 Seoul, Korea Olympics.


Related world records:
Oldest Everest climber-world record set by Bahadur Sherchan

Oldest competing bodybuilder-world record set by Ray Moon

Oldest woman paraglider-world record set by Peggy McAlpine

Tuesday, June 9, 2009