Monday, July 18, 2011

First perfect 10 at the Olympics: Nadia Comaneci set world record (Video)

MONTREAL, Canada -- At the Montreal Olympics, Nadia Comaneci, 14, all of four feet and 11 inches and weighing 86 pounds, stunned everyone, including the judges to score a perfect 10 on the uneven bars and setting the world record for the first person to score a perfect 10 in a gymnastics routine at the Olympics.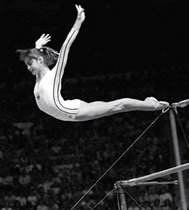 Photo: Nadia Comaneci of Romania dismounting from the uneven bars at the Montreal Olympics. She was the first person to score a perfect 10 at the Olympics. Photo: AP (enlarge photo)

The Guinness world record for the largest aerobics display involved 48,188 participants at the Quirino Grandstand, Luneta Park, Manila, Philippines.

Guinness World Records also recognized the world record for the most people doing a handstand simultaneously: 399, at an event organised by the Braderie Comity of Wevelgem in Wevelgem, Belgium.

As televisions around the world beamed images of Nadia's breath-taking performance, the viewers discovered a new meaning for beauty on the bars.

Before that, no male or female had ever received a perfect score in any Olympic gymnastics event.

The 14-year-old Romanian, a picture of intensity going through her gymnastic routines, became an object of attention and fascination the world over.

She had seven perfect scores in all, four of them coming on the uneven bars, two on the balance beam and one in floor exercise.

When she produced the magic moment for the first time on the uneven bars, Nadia took everyone by surprise.
The scoring equipment, not programmed to display four digits of 10.00, showed 1.00. The crowd waited in silence for the judges' marks to flash on screen and broke into stunned applause after the announcer explained the significance of the strange scoreline — 1.00 out of 10 was actually 10/10.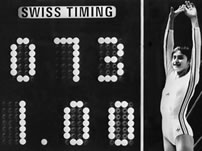 Photo: Nadia Comaneci scored seven perfect 10s at the 1976 Montreal Games -- four on bars and three on beam. (enlarge photo)

In 1989 Nadia made news again, this time for 'defecting' to the United States.

Comăneci received the Olympic Order, the highest award given by the International Olympic Committee, in 1984 and 2004.
She is the only person to receive this honor twice, and was also the youngest recipient.

In the US, she started a gymnastics academy with American Bart Conner, who was also an Olympic gold medallist in gymnastics, before marrying him in 1996. Both are joint owners of the Bart Conner Gymnastics Academy.

Related world records:
Most 10 scores at Olympics: Nadia Comaneci

Longest front flip: Robert Souris (Video)

Most Cartwheels in a Row: Abhinandan Sadalge

Most consecutive back handsprings: Chelsey Kipping

Longest line of splits: Australian gymnasts

Most Succesful Coach: Octavian Bellu

Most successful women coach: Maria Bitang

Largest indoor flag: the Romanian flag displayed at Aarhus WC

Monday, July 18, 2011